I was able to learn how to do punch needle without a formal in-person class.
---
I started in the exact same position as you probably are right now.
I had been drooling over all of the amazing punch needle designs I kept seeing everywhere, but I had no idea how to punch!
None – no idea which tool to get, what fabric to choose, how to select threads…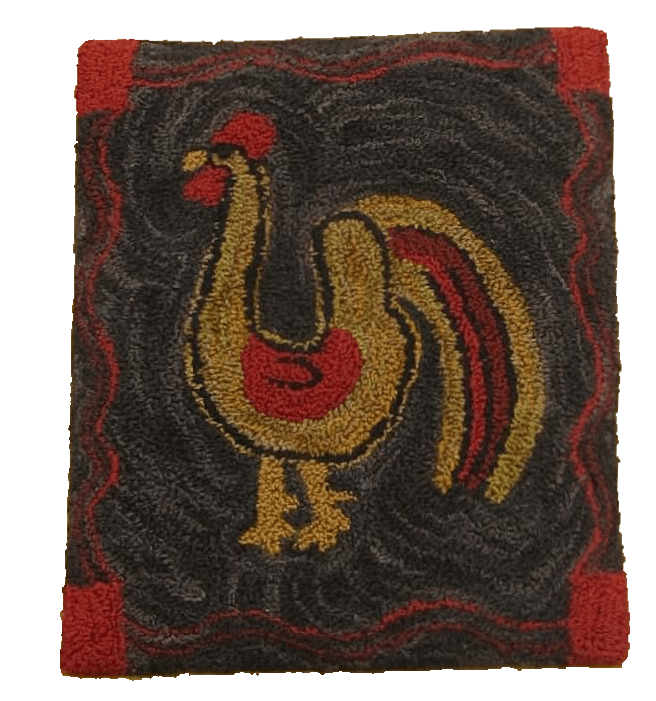 Yet, despite all of that, I was able to quickly progress to making nice looking projects.
This is one of my earlier projects.
I based it on an antique hooked rug.
Since punching this chicken, I have made hundreds more projects!
It is a hobby that I REALLY enjoy!
---
Before I ordered that first punch needle tool,
I didn't even know anyone who did punch needle…
I spent money on products that weren't good choices.
You must have the correct products to have a good experience punching.
I wasted time trying to figure out the correct punching techniques.
Punching isn't hard, but you do need to know a few tricks to get rolling.
I was having trouble staying motivated to finish a project.
When you don't understand how to do a craft, it is hard to stay motivated to keep trying.
If you want to avoid all of these mistakes, you are in the right place.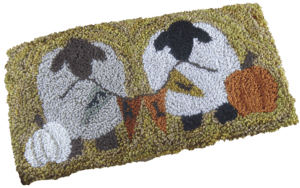 You can successfully create your own heirloom quality punch needle projects!
I do it all the time.
I did loads of research and had A LOT of trial and error to figure out the necessary techniques included in this ebook.
A lot of punchers get frustrated while searching for the correct approach to punch needle.
This is how you do it.
My ebook is a step-by-step guide showing you exactly how to make your first punch needle project.
Introducing the
Beginner's Guide to Punch Needle
How to create your first punch needle embroidery project
---
What's inside the Ebook:
I will show you the correct supplies needed for punch needle embroidery
You will learn how to trace the pattern.
Find out how to get the fabric tight and why it is so important.
Learn how to choose embroidery threads.
I will teach you to thread the needle and how to choose a punching depth.
I will coach you through the proper punching technique.
You will see some common problems and their solutions so you can avoid them.
As an added bonus, I have included:
Quick Start Guide – this is the perfect page to print and keep next to you as you punch to remind you of everything you have learned in the ebook!
Blue Bird Punch Needle Pattern – this adorable punch needle pattern is a perfect choice for beginners.
Frequently Asked Questions:
What is Punch Needle?

There are two types of punch needle crafts: rug punch needle and punch needle embroidery.
Both use their own special punch needle tool to punch loops of fiber (yarn or floss) through a
foundation fabric to make wall hangings, pillows, and many other decorative and useful item
for the home.

Rug punch needle uses yarn (usually wool) and monks cloth, a fabric with a fairly coarse
weave, for the foundation fabric. Rug punch needle is best used for larger projects such as
rugs and large pillows.

Punch needle embroidery uses smaller fibers such as embroidery floss and weavers cloth, a
tightly woven cotton polyester blend fabric, for the foundation fabric. Punch needle
embroidery is best used for small projects.
What type of punch needle does this book cover?

This book covers punch needle embroidery.
Can I get a physical copy?

The Beginner's Guide to Punch Needle is currently only available in a digital PDF format. If you want, you can print all of the pages and have them bound or keep them in a 3-ring binder.
What will I receive with purchase?

You will receive the complete Beginner's Guide to Punch Needle in a digital PDF file format.
When will I receive the book?

The ebook will be delivered digitally to the email address you provide at checkout. It should arrive within 5-10 minutes of your purchase.

If you don't see it within 10 minutes, please verify you are checking the email address you used at checkout. You can also check your spam or promotions folders. If you still don't see it, please contact us at [email protected]
What is your return policy?

14 day money back guarantee – If you have tried all of the techniques in the book and find that punch needle is not for you, let us know and we will return your money from the purchase of this ebook.
Get Started Punching for $17
That's over 20% off the regular price!
Meet the Author:
Amy Smith is the founder of DoodleDog Primitives and the author of the Beginner's Guide to Punch Needle
---
I have been crafting since I was a little girl. My earliest forays into the crafting world were counted cross stitch and plastic canvas. I even made an entire nativity set from plastic canvas when I was young.
I believe that primitive art is a wonderful way to turn a house into a home and it's my goal to help you make your corner of the world just a little cozier.