After wet felting our hat blanks,
we went back to Iowa to our hat making class the following week.
Milliner, Laura Whitlock, was our fabulous teacher.
It was very interesting to learn more about hats and the hat making process
before we got down to the business of forming our own hats!
We had many antique hat forms to choose from.
The trick was finding one that fit our head measurement!
Apparently, I have a big head, so this is the one that would fit me.
We covered the forms in foil,
got our hat forms wet with a steamer,
put the hats on the forms,
and started pulling them down to shape the hats.
While the hats were drying,
we learned different flower making and feather techniques.
At the class, I was able to finish the edges
and sew in my inner hatband.
Unfortunately, the weather started to turn bad after I finished that,
so Mom and I decided to head home with unfinished hats.
With the business of the holidays behind us,
I recently sat down to finish my hat.
I used the leftover fabric from the bottom of the hat to make a flower
and added a vintage button for the flower center.
I also added a matching ribbon.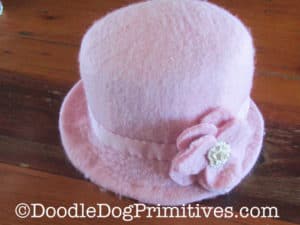 I also got some matching pink wool roving
which I spun into a double ply yarn
and am currently crocheting into a scarf to wear with the hat.
I can't wait to get it all finished and wear them!
Blessings~
Amy