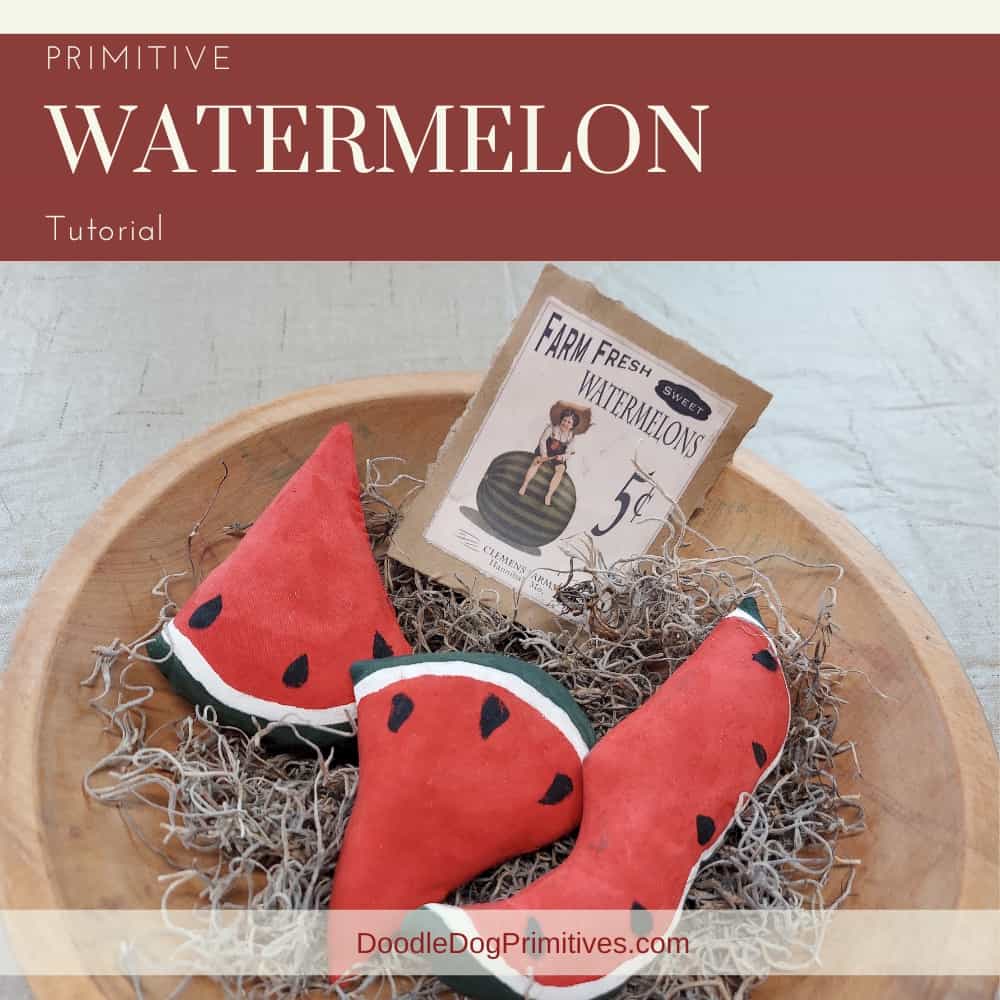 In this post I am going to show you how I made these primitive watermelon slices. These are a fun, easy DIY craft perfect for summertime decorating!
These are also economical to make using only some inexpensive muslin fabric, stuffing, and craft paint.
Watch the Craft Tutorial Video:
This post may contain affiliate links for your convenience, which means if you make a purchase after clicking a link I will earn a small commission but it won't cost you a penny more. For more information, please visit our Privacy Policy.
Draw the Watermelon Slice Pattern:
I have an oval box in my craft room that was just the right size to make the watermelon slice patterns. It is about 5″ x 7″. Look around your house for something the right size for the watermelon slices you want to make – or you can just use my pattern. Download it here.
Sew the Watermelon Slices:
For each watermelon slice you want to make, use the pattern to cut out two pieces – one for the top and one for the bottom. I used muslin fabric because it is an easy to find economical fabric.
Pin the two pieces right sides together. Use a quarter inch seam allowance and sew all the way around the fabric, leaving an opening for turning.
Clip the corners and curves. Turn the watermelon slices, press if desired, stuff, and sew the opening closed.
Paint the Primitive Bowl Fillers:
You can now just paint right onto the fabric with craft paints!
Draw a pencil line along the curved edge over the watermelon slices to use as a guide when painting the green paint. Start with a small amount painted and see how it looks. You can always add more later. (I did.)
I used all Apple Barrel craft paints: Forest Green, White, Bright Red, and Black.
After painting the green, I painted a thin line of white, and then painted the rest red, letting it dry between colors.
I did have to touch up in a few spots with a second coat.
Adding the Seeds:
For the seeds, I painted on some teardrop shapes with black paint. You could also use a black marker to draw the seeds.
Grunge the Watermelon Slice Bowl Fillers:
I added a little bit of Folk Art Antique Wax to add some grunge to the watermelon slices. If you choose to do this, be careful as a little goes a long way.
To keep it light, I added a little bit of the wax to a rag and then smeared it around on the rag a little bit. I then applied it to the edges of the melon slice and the white part of the melon. It is easy to get too much on the white sections of the melon so rub it on the red or green part before getting it on the white parts.
Display the Watermelon Slices:
I placed some Spanish moss in an antique wooden bowl, added the primitive watermelon slices, and then I printed out this watermelon sign and added it to the bowl.
Be sure to check out our other primitive craft tutorials.