To start punch needle embroidery, you will need some specialty punch needle supplies along with some supplies you might already have. Find out which beginner punch needle supplies are essential and download the printable supplies list plus a handy checklist.
Punch needle embroidery is completed with small fibers such as embroidery floss and pearl cottons. The foundation fabric used is a tightly woven cotton polyester blend called weavers cloth. Punch needle embroidery is perfect for small projects.
Punch needle embroidery is slightly different from rug punching. The methods to punch are similar, but they use different tools, yarn, and foundation fabrics. Rug punching is usually punched with yarns into monks cloth fabric. Rug punching is used for larger projects such as large pillows or rugs.
---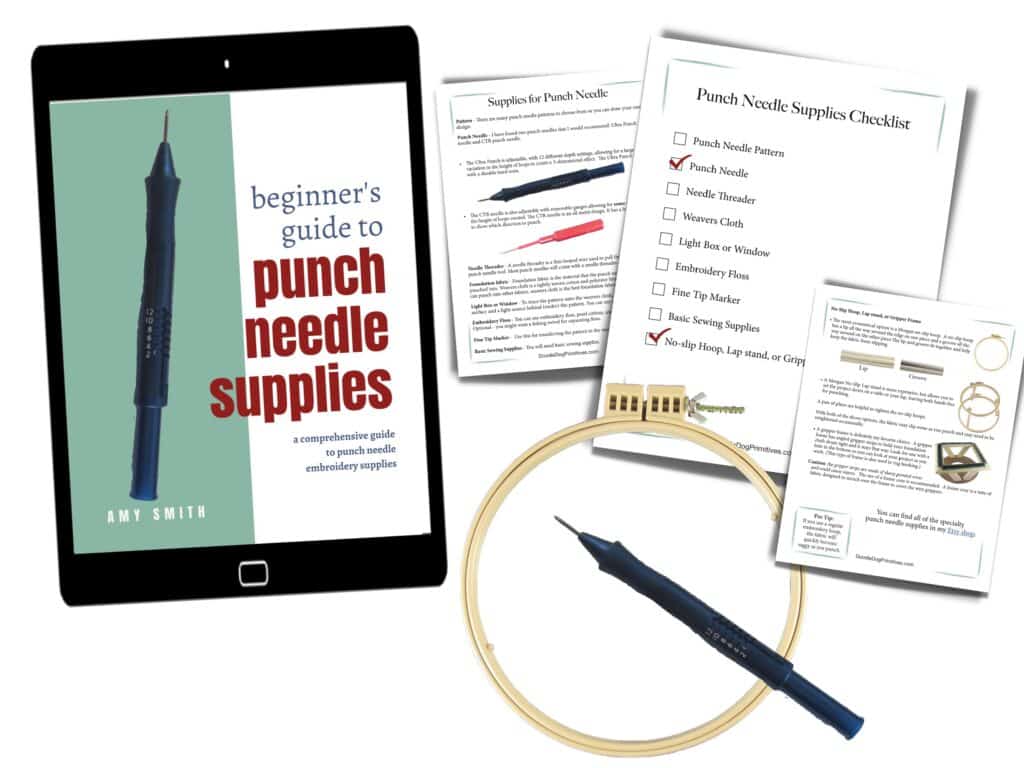 Download the Beginner's Guide to Punch Needle Supplies
---
Watch the Video:
Punch Needle Patterns:
There are many punch needle patterns to choose from or you can draw your own design.
All of the DoodleDog Designs punch needle patterns come in a digital format, paper pattern, or kit.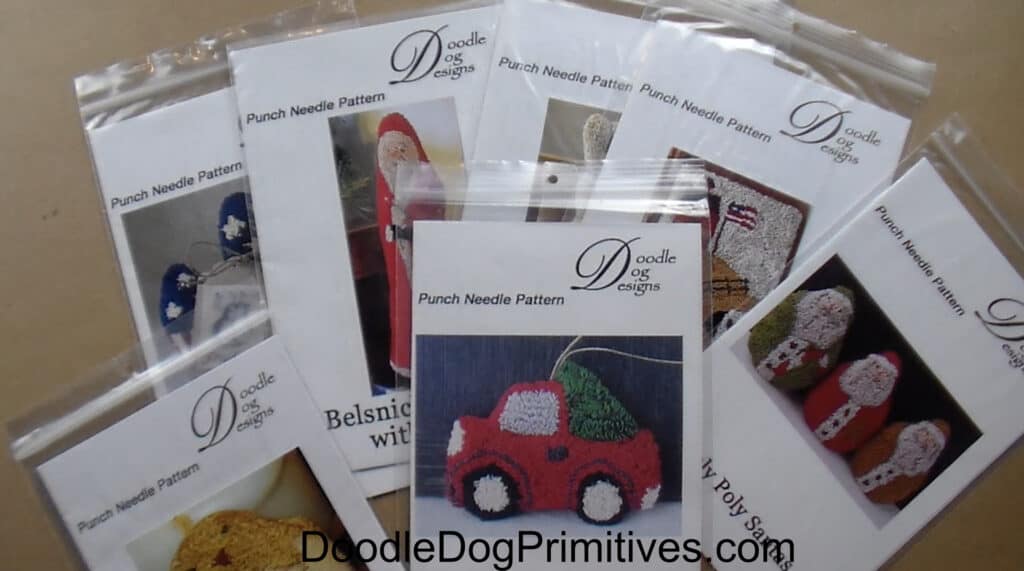 This post may contain affiliate links for your convenience, which means if you make a purchase after clicking a link I will earn a small commission but it won't cost you a penny more. For more information, please visit our Privacy Policy.
Punch Needle:
I have found two punch needles that I would recommend: Ultra Punch needle and CTR punch needle.
• The Ultra Punch is adjustable, with 12 different depth settings, allowing for a large variation in the height of loops to create a 3-dimensional effect. The Ultra Punch is made with a durable hard resin. Learn more about the Ultra Punch needle.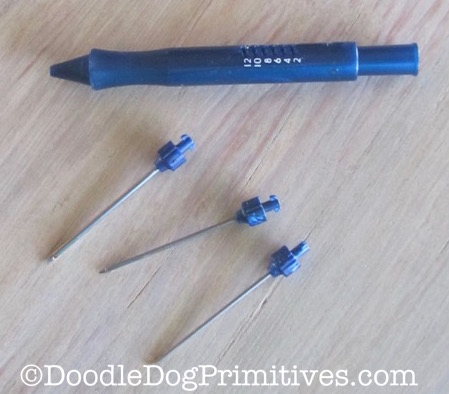 • The CTR needle (discontinued) is also adjustable with removable gauges allowing for some variation in the height of loops created. The CTR needle is an all metal design. It has a bevel indicator to show which direction to punch. Learn more about the CTR needles.
One factor to keep in mind when choosing a punch needle is how it feels in your hand. I have made a handy reference chart to help you decide which needle would fit you best.
Punch Needle Threader:
A needle threader is a thin looped wire used to pull the floss through the punch needle tool. Most punch needles will come with a needle threader.

What Material Do You Use:
Foundation fabric is the material that the punch needle design is punched into. Weavers cloth is a tightly woven cotton and polyester blend fabric. While you can punch into other fabrics, weavers cloth is the best foundation fabric for beginners.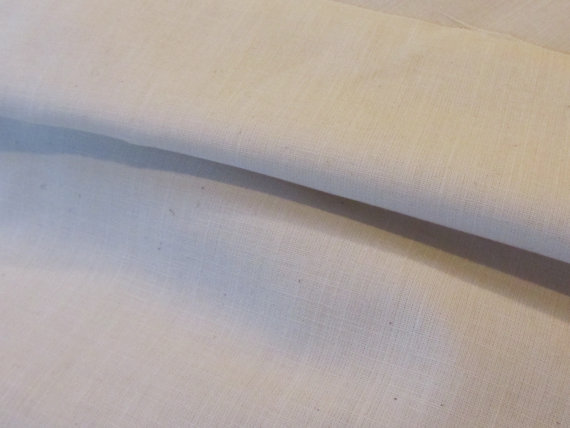 Aida cloth that is used for cross stitch will not work well for punch needle.
Light Box or Window:
To trace the pattern onto the weavers cloth, you will need a hard surface and a light source behind (under) the pattern. You can use a light box or a window.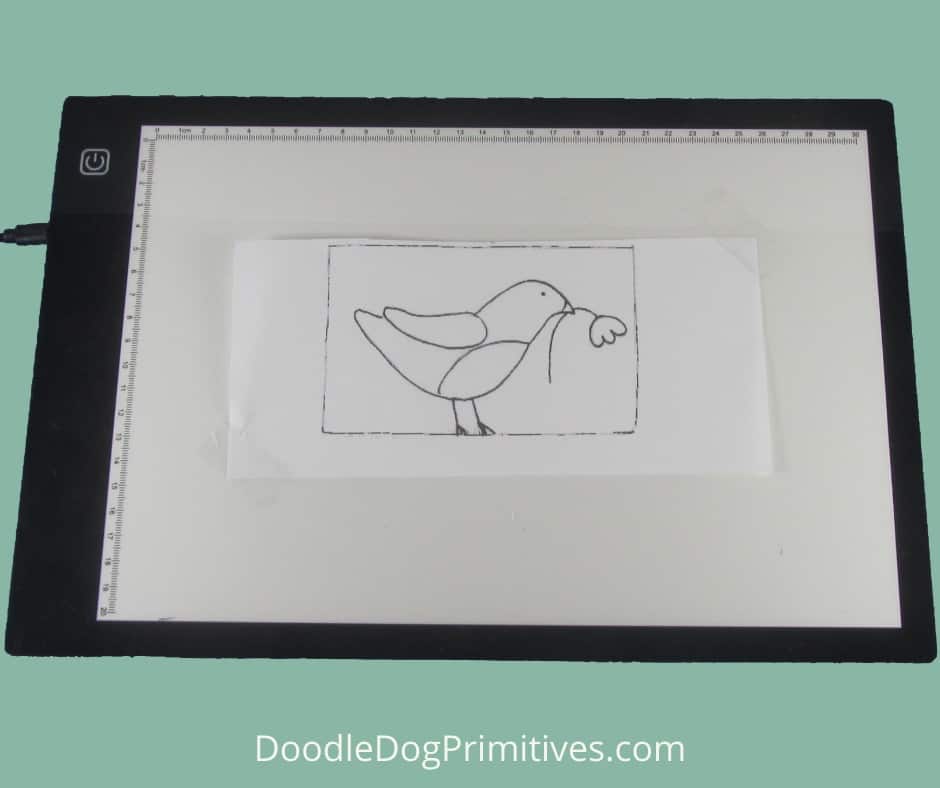 Embroidery Floss:
You can use embroidery floss, pearl cottons, and more.
Optional – you might want a fishing swivel for separating floss.
No-Slip Hoop, Lap stand, or Gripper Frame:
• The most economical option is a Morgan no-slip hoop. A no-slip hoop has a lip all the way around the edge on one piece and a groove all the way around on the other piece. The lip and groove fit together and help keep the fabric from slipping.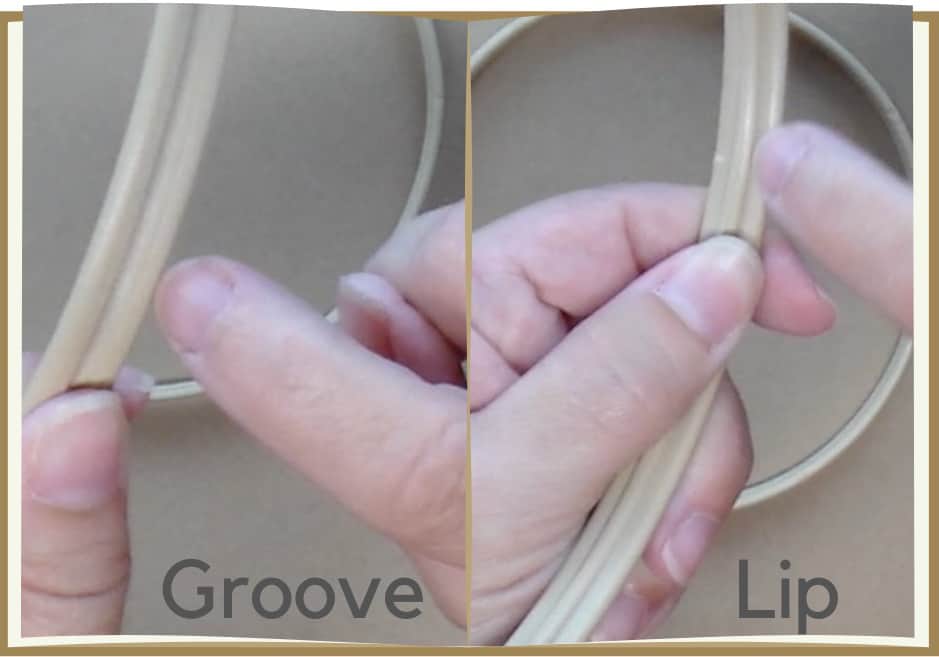 • A Morgan No-Slip Lap stand is more expensive, but allows you to set the project down on a table or your lap, leaving both hands free for punching.
A pair of pliers is helpful to tighten the no-slip hoops.
With both of the above options, the fabric may slip some as you punch and may need to be retightened occasionally.
• A gripper frame is definitely my favorite choice. A gripper frame has angled gripper strips to hold your foundation cloth drum tight and it stays that way. Look for one with a hole in the bottom so you can look at your project as you work. (This type of frame is also used in rug hooking.)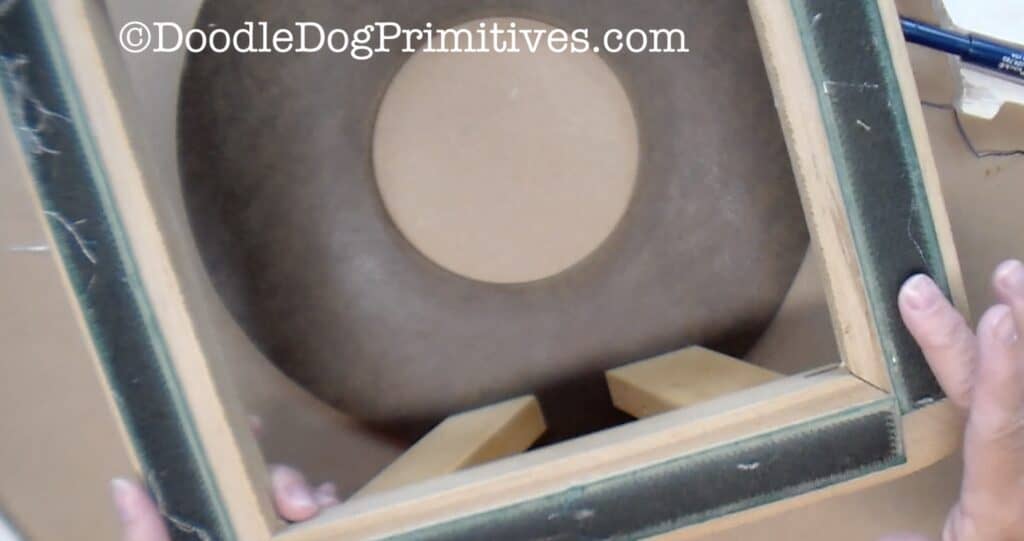 Pro Tip: If you use a regular embroidery hoop, the fabric will quickly become saggy as you punch. Learn more…
Caution: the gripper strips are made of sharp pointed wires and could cause injury. The use of a frame cozy is recommended. A frame cozy is a tube of fabric designed to stretch over the frame to cover the wire grippers.
Fine Tip Marker:
Use a fine tip marker for transferring the pattern to the weavers cloth.
Basic Sewing Supplies:
At a minimum, you will need a pair of scissors to cut the thread. Depending on how you decide to finish the project, you might also need other sewing supplies.
Instructional Ebook:
Get this easy to follow Beginner's Guide to Punch Needle Embroidery Ebook full of tips and techniques to get you started with punch needle embroidery.
---
You can find all of the specialty punch needle supplies in my Etsy shop.