Even though I have Norwegian ancestors,
I am not much of a coffee drinker.
But, I do love a good cup of tea!
When we moved to our current home,
the previous residents had planted mint in their landscaping.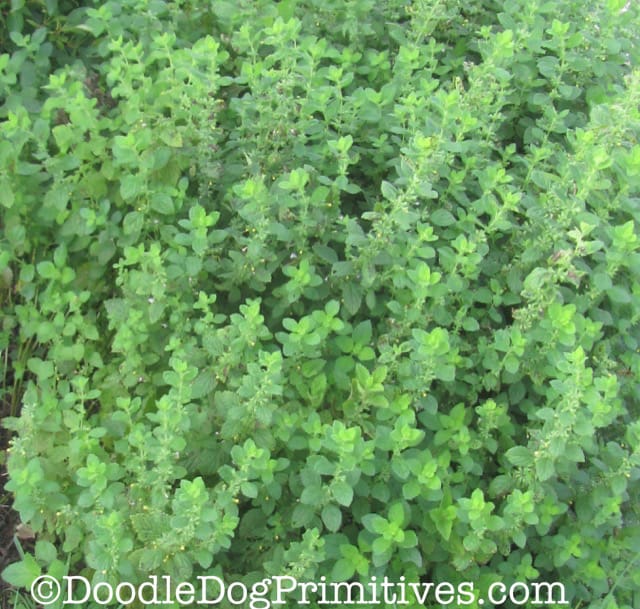 With its aggressive nature, the mint has smothered out
everything else that was planted nearby,
but that's ok with me.
I love a good cup of mint tea!
During the summer, I like to air dry some of the mint leaves
so I can drink hot steaming cups of mint tea all winter long!
This post may contain affiliate links for your convenience, which means if you make a purchase after clicking a link I will earn a small commission but it won't cost you a penny more. For more information, please visit our Privacy Policy.
Here's how I air dry the mint leaves for tea.
Cut some stems of mint.
It is best to do this in the morning after the dew has dried.
Try to choose stems that have plenty of nice looking leaves.
Cut the good leaves off the stems and place in a food safe container.
Store the mint leaves in a cool dry place for a few weeks –
until they are dry.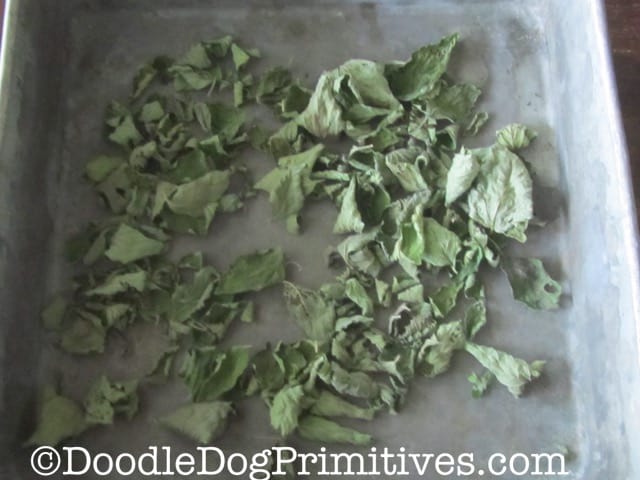 After they are dry, store them in a jar for enjoying next winter.
I usually repeat this process a few times
until I have my jar full of delicious mint leaves.
(Some people like to leave the leaves on the stems;
bundle the stems together, and hang until dry.
After they are dry, they take the leaves off the stems.
However, I think it is harder to weed out the bad looking leaves
after they are dry.)
After you are all done, you can enjoy a steaming hot cup of mint tea.
Of course, you can have straight mint tea,
but my favorite is a combination of mint leaves and green tea leaves.
I fill one side of my tea strainer almost full with green tea leaves
and then add a few crushed mint leaves to the top.
That's the best way I have found to dry mint leaves for delicious mint tea all year long!