I never seem to have any trouble deciding what I want to punch. The problem lies after I finish punching the project. I love the way it looks, but what to do with it? Luckily, my husband and I both enjoy going to auctions and flea markets and often find treasures that can be used in craft projects.
Sometimes, I actually find actual craft supplies at auctions such as vintage buttons and fabric. Most of the time, though, I find things that could be used to display craft projects. Think vintage oil cans, door knobs, baskets, wooden paddles, etc.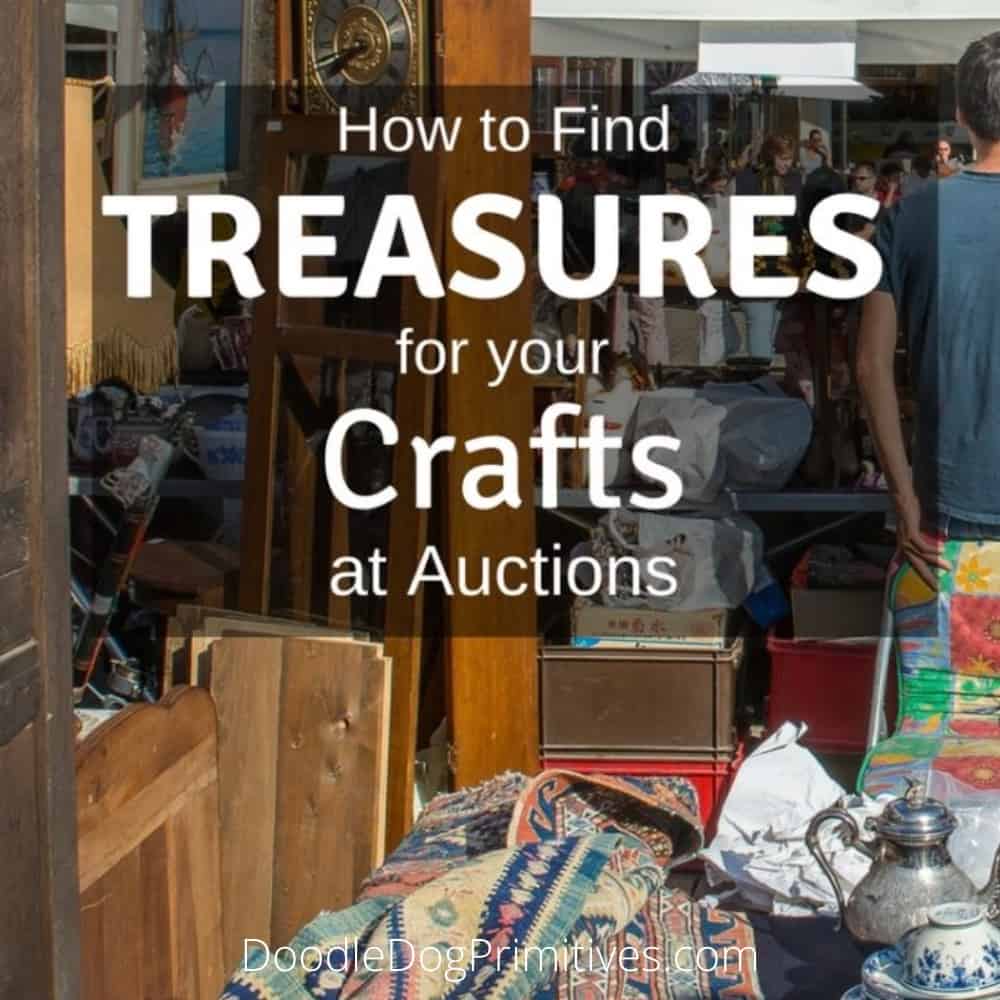 My husband was kind enough to write these helpful tips to help you find treasures at auctions.
Guest Post by Amy's Dear Hubby:
So why would I think that an article about auctions would fit in a space normally occupied by articles about needlecrafts? The answer is simply that there are a lot of great deals to be had for items to use in your crafts. The trick is having the imagination to see them lying amongst the junk.
If you are not a regular auction goer, here are some tips to help you be successful.
Research Auctions:
Do your research to decide which auction you would like to attend by scouring auction listings in the paper or online. While there are frequently sales at comfy auction houses with neat looking glassware in the auction listings, these are not the sales to find the best bargains on primitive knick-knacks.
A household sale that has items of interest for both men and women usually holds the most treasures. Some examples of things Amy has come home with are antique door knobs, tin funnels, old oil cans, jars of buttons, and various wooden boards for mounting finished projects. Her latest find was a treadle sewing machine.
Plan for Comfort:
Once you pick an auction, be ready to make a day of it. The best deals are had on days when the weather is unpleasant. Plan ahead by choosing your clothing wisely. Most of all, wear comfortable shoes because you will be adding a lot of steps to your Fitbit.
For me, a big part of being comfortable is having plenty of food. We usually pack a light lunch and some snacks but it is always a good idea to try the pie at the food shack too.
Get to the Auction Early:
Get to the sale early to do a thorough job of reconnaissance. Look through all the boxes and make note of where the things you want are located.
If a box of stuff sells that contains multiple items but goes higher than what you are willing to give, pay attention to who has bought it. Many times the buyer is not interested in the stuff you wanted and will gladly let you buy the item you desire for much less than what the box cost.
Get Social:
Getting primitive decor at bargain prices is not the only reason to attend. Once you become a regular, you will start meeting the same people over and over so it becomes a social outing. Ladies, you should beware! A woman looking through a box of tools is going to be a target for old men to keep their flirting skills honed.
And, did I mention there is pie?