This Bee Skep Punch Needle Pattern is now listed in my Etsy shop.
The bee skep bowl filler is the perfect addition to your summer primitive treen ware bowl!
You could even pair it with a few of these busy bee bowl fillers.
Bee Skep Punch Needle Pattern:
This punch needle bee skep has been punched using
three strands of DMC embroidery floss and Valdani floss.
The finished project measures about four inches tall and about three and one fourth inches wide.
A small metal bee charm has been added to the punched bee skep.
The pattern includes complete finishing instructions to add a felted wool backing
to turn it into a mini pillow bowl filler.
Get the Bee Skep Pattern:
If you want to start punching right away, choose this instant downloadable e-pattern.
The digital pattern comes in a convenient pdf file format.
Get the pdf punch needle pattern.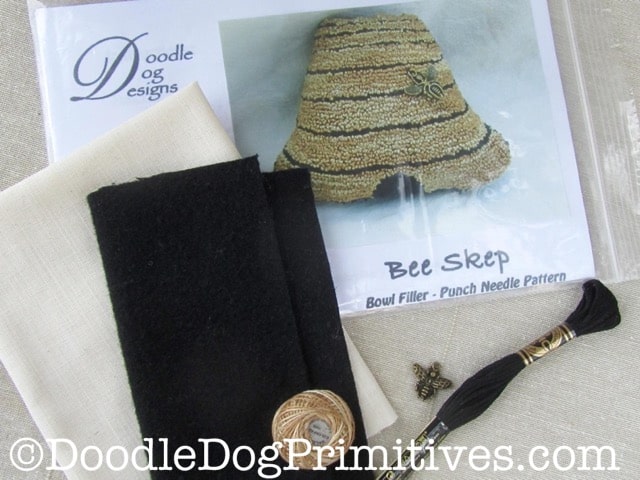 You can also choose a mailed paper pattern or a punch needle kit.
The punch needle kit comes with the reusable paper pattern,
high quality weavers cloth, felted wool, DMC embroidery floss,
Valdani floss, and a tiny bee charm.
Get the bee skep punch needle kit.