After showing you how to make punch needle ornamental corn a few weeks ago, I thought it would be fun to make some hooked rug ornamental corn. The process of making the corn is similar for both punch needle and rug hooking, but the patterns are different.
Watch the Rug Hooking Video:
This post may contain affiliate links for your convenience, which means if you make a purchase after clicking a link I will earn a small commission but it won't cost you a penny more. For more information, please visit our Privacy Policy.
Hooking the Ornamental Corn:
The pattern for this ornamental corn is pretty simple – just a rectangle rounded at one end. You can draw your own or use this free pattern.
We hooked the corn on monks cloth using #8 (1/4″ wide) strips using a combination of brown, gold, and orange felted wools for the corn. It was hooked in straight rows across long ways to resemble rows of corn.
After hooking, trim the empty monks cloth to about one inch all the way around and serge the edges.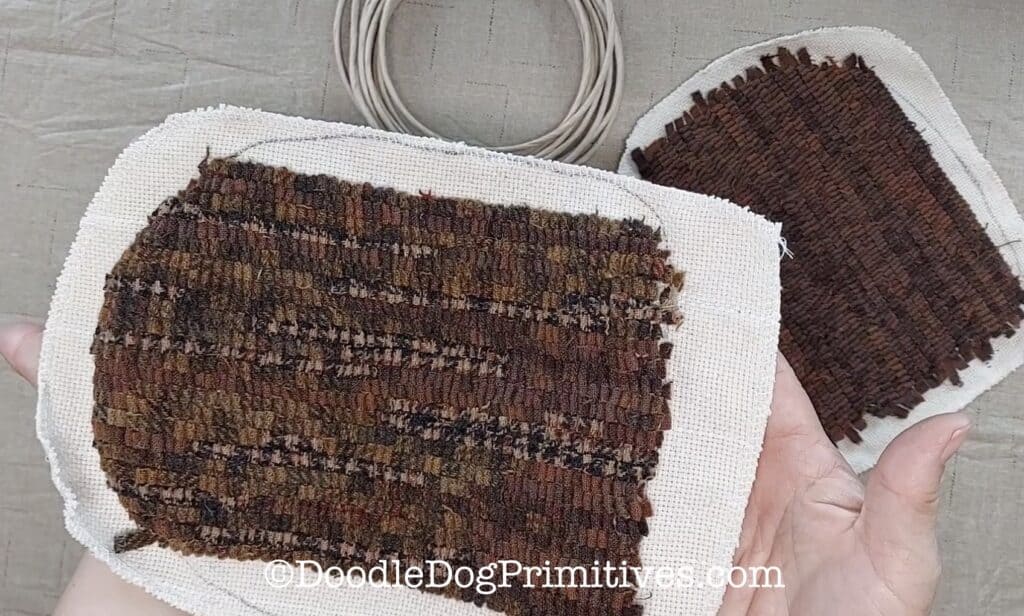 Sewing the Ornamental Corn:
Fold the hooked corn in half lengthwise with right sides together. Stitch along the long side as close to the hooking as possible using a zipper foot.
Turn the tube right side out.
On ours, there was some monks cloth visible along the seam line. That part will be in the back covered by the corn husk so it is not a problem.
Using a needle and thread, sew a running stitch all the way around one end of the corn close to the edge of hooking. Pull the thread tight to gather the end of the corn, tucking in the ends of the monks cloth as you gather. Stitch and tie off the thread.
Stuff the corn. We used a Polyfil type stuffing.
On the open end, repeat the gathering step from above.
Add the Corn Husks:
For the corn husks, we used twisted paper rafia. When you are looking for some, make sure to choose some that untwists to around 3 inches in width.
Cut a length of the twisted paper rafia that is several inches longer than the ear of corn.
Untwist and trim one end to be pointed like the end of a corn husk.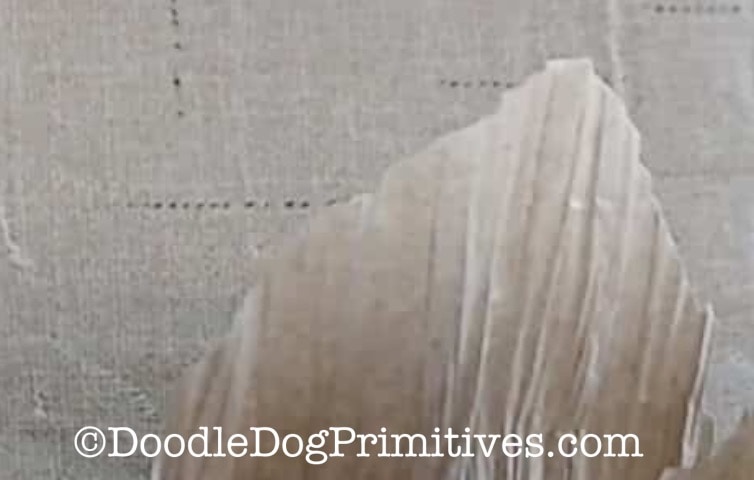 Repeat to get more husk 'leaves'. We made 3 for each ear of corn.
Place the ear of corn over one husk and layer the other two on either side of the corn – overlapping the husks slightly.
Tie a piece of jute around the husks to hold it in place.
With your hands, gather the 'husk' at the bottom of the corn and tie with another piece of jute. We wrapped the jute around the husk several times before tying.
The paper raffia is easy to mold and manipulate into place. Push and bend it around until you have a look you like.
We tied knots in the end of the jute and cut off the excess. We also cut off the excess husk at the bottom of the ear of ornamental corn.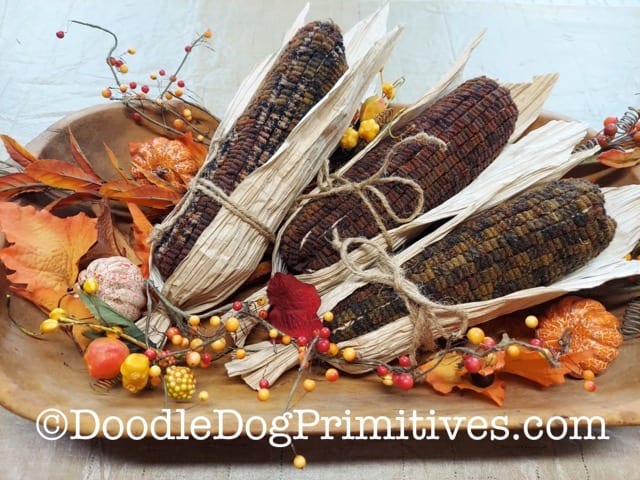 Enjoy using your hooked rug ornamental corn in your fall decorating!
Be sure to check out our other hooked rug tutorials.