It always seems like my punch needle threader
breaks at the most inopportune time;
usually when I am right in the middle of punching a fun project!
I figured if I could make them myself,
it wouldn't be that big of a problem when I break one.
And if I can make them, I am sure you can too!
This post may contain affiliate links for your convenience, which means if you make a purchase after clicking a link I will earn a small commission but it won't cost you a penny more. For more information, please visit our Privacy Policy.
Supplies to make Punch Needle Threader:
After trying several different gauges of wire,
I determined the 34 gauge wire works for
both my 3 strand CTR needle and small tip of the Ultra Punch Needle.
This particular wire bends a lot as I use it,
but it straightens out easily and lasts fairly well.
Note: If you are in the habit of using a magnet
to keep track of your threaders,
stainless steel wire is not magnetic.
Watch the Video:
Calculating the wire length for the threader:
You will have to do a little math, but bear with me it isn't too hard!
Measure the length of your punch needle.
Double that number and add eight inches.
For the Ultra Punch, cut 20 inches of wire.
The Green 3 strand CTR needs 17 inches of wire.
For the Red 3 strand CTR, cut 15 inches of wire.
I just make mine long enough for any needle
so I can use the same threader regardless of which needle
I choose for a punch needle project.
Make the Punch Needle Threader:
Using the wire cutters, cut a piece of wire the correct length.
I cut 20 inches because I wanted it
to be able to fit either the CTR needle or the Ultra Punch.
Fold the wire in half, pinching the fold together.
Thread the two ends of the wire together through the eye of a needle
and pull it all the way through.
This will create the threading end of your threader
and should pinch the wire together.

You want to use a needle in which the doubled up wire
barely fits through the eye.
Now, for the other end.
I chose a very large vintage button for this.
I liked the look of the button and it is very large,
which will make it easy to find it I drop the punch needle threader.
Take the two loose ends of the wire
and thread one through each hole in your button.
The loose ends of wire should end about 1″ past the button.
Twist the wires together on both sides of the button
to keep the button from sliding back and forth on the wire.
Thread the loose ends of the wire back through one of the buttonholes.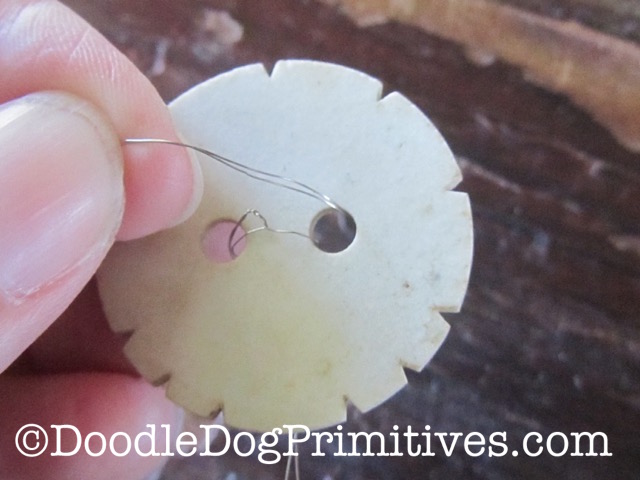 On the other side of the button,
thread the loose ends of the wire back through the other buttonhole.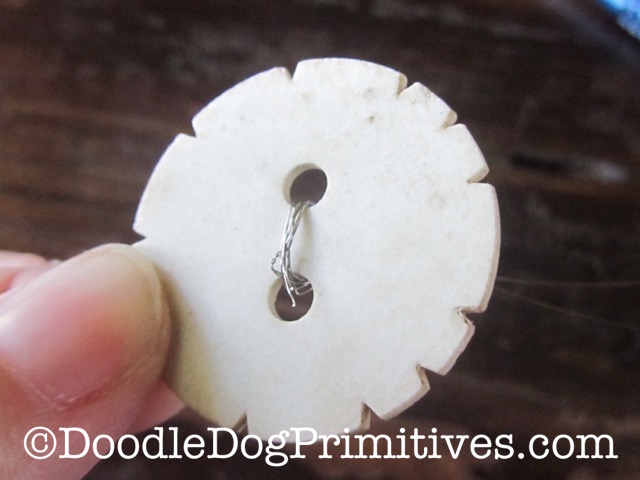 Keep repeating this until you run out of wire.
Now you are ready to start using your new punch needle threader!
Blessings~
Amy
Be sure to pin this Punch Needle Tutorial!