I love adding some Americana to my summertime farmhouse decor! Find out how easy it is to make these primitive wool flags using ric rac, felted wool, and sticks in this step-by-step tutorial.
These prim flags are cute added to a display of geraniums or patriotic decor.
Supplies to make Primitive Wool Flags:
Felted wool in red, white, or blue
1/2″ wide ric rac in red, white, or blue
17″ long Stick
Basic sewing supplies
Watch the Video:
Choose your Colors:
I am going to use a red wool for the background of my flag, white ric rac, and a navy blue star.
You could use other combinations depending on the supplies you have.
Perhaps you could make a blue background with white ric rac and a red star,
or a cream background with red ric rac and a blue star.
Cut the Flag Stripes:
Cut a piece of felted wool 5 inches by 7 inches. This will be the background of the flag.
Cut three pieces of ric rac 7 inches long for the three bottom flag stripes.
Cut the fourth piece of ric rac slightly shorter.
I didn't measure mine, but it was probably about 6-1/2 inches long.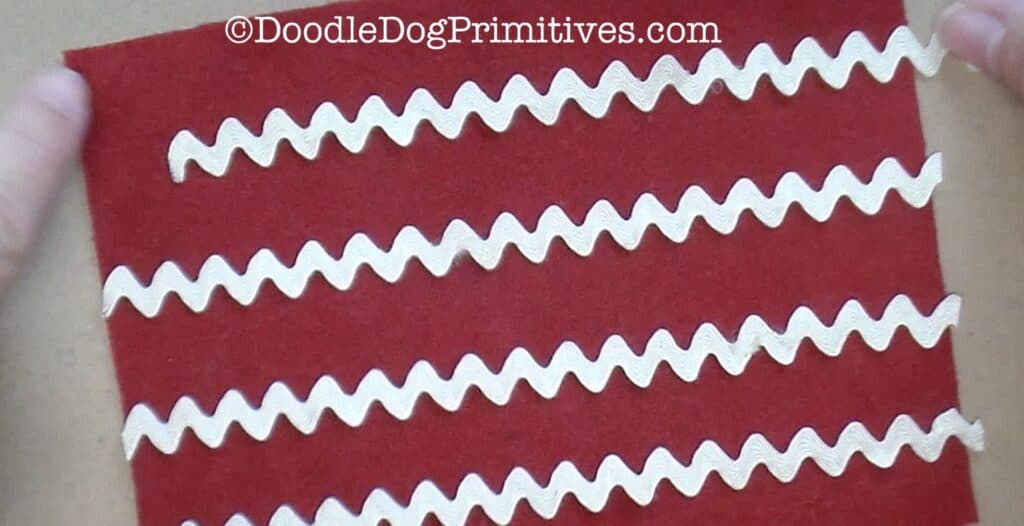 Sew the Ric Rac Stripes:
Pin the top, shorter ric rac piece 3/4″ down from the top of the felted wool.
Pin the next ric rac piece 3/4″ down from the top piece of ric rac.
Pin the third ric rac piece another 3/4″ down from the second piece.
Pin the final piece of ric rac 3/4″ down from the third piece of ric rac.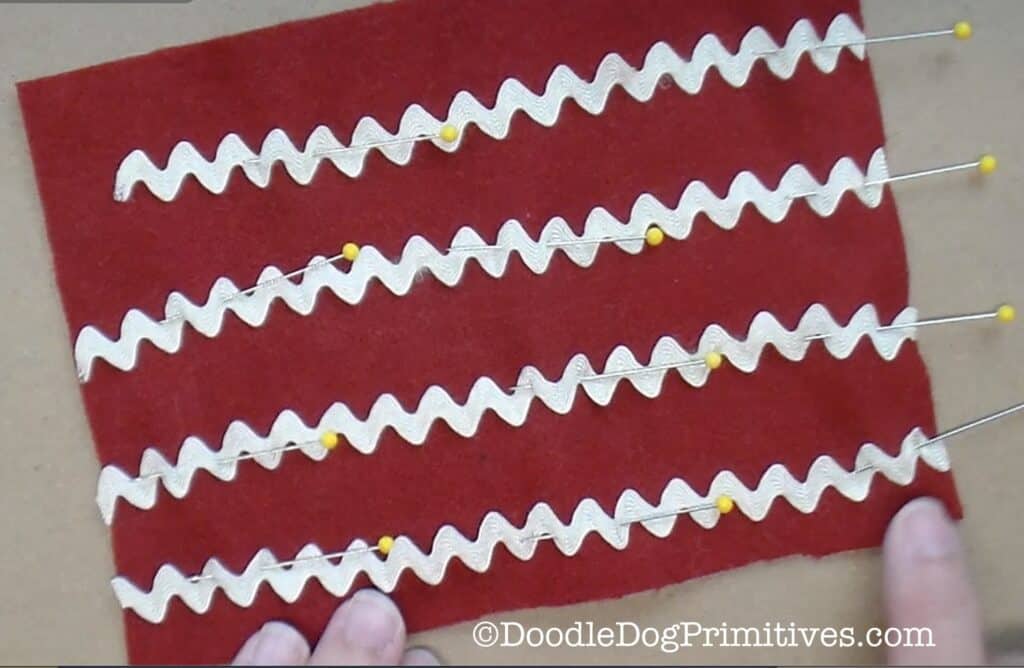 Sew a straight line down the middle of each piece of ric rac using thread to match.
I used the sewing machine. If you don't have a sewing machine, you could easily hand stitch the ric rac.
The Flag's Star:
Cut a primitive star from felted wool.
The star needs to be about 2-1/2 inches tall and about 3 inches wide.
Place the star on the flag as desired and stitch a straight line
about 1/2 inch long right down the middle of the star using thread to match the star.
Sew the Wool Flag to the Stick:
Place the flag about one inch from one end of the stick.
Thread a needle with sewing thread to match the background of the wool flag.
Sew the wool flag to the stick flagpole by making tiny stitches in the wool
and wrapping the thread around the stick.
Enjoy your primitive wool flags!
You might also like our prim fireworks bundle tutorial.
If you have lots of wool, be sure to check out this class to make wool houses and trees.
Blessings~
Amy