Hooked rugs are made up of strips of felted wool called cuts. Some rug hooking patterns will tell you which cut size to use. Most of my hooked rug patterns use a #8 cut size. Read on to learn what the rug hooking cut sizes mean.
Watch the Video:
Rug Hooking Cut Sizes:
The cut refers to the width of the felted wool strip. Now bear with me, there is a bit of math involved but it is not too difficult. Up to a size 8 rug hooking cut, the formula is super easy. The rug cut number is the numerator in a fraction and 32 is the denominator of the fraction. So, a cut size 3 is a 3/32 of an inch wide wool strip.
---
This post may contain affiliate links for your convenience, which means if you make a purchase after clicking a link I will earn a small commission but it won't cost you a penny more. For more information, please visit our Privacy Policy.
---
A cut size of 4 is 4/32 of an inch wide. This fraction can be reduced to 1/8″. A cut size of 5 is 5/32 of an inch wide and so on all the way up to cut size 8, which is 8/32″ or 1/4″ wide.
Cut 3 – 3/32″
Cut 4 – 1/8″
Cut 5 – 5/32″
Cut 6 – 3/16″
Cut 7 – 7/32″
Cut 8 – 1/4″
A cut 8 is the most common size cut used in primitive rug hooking kits.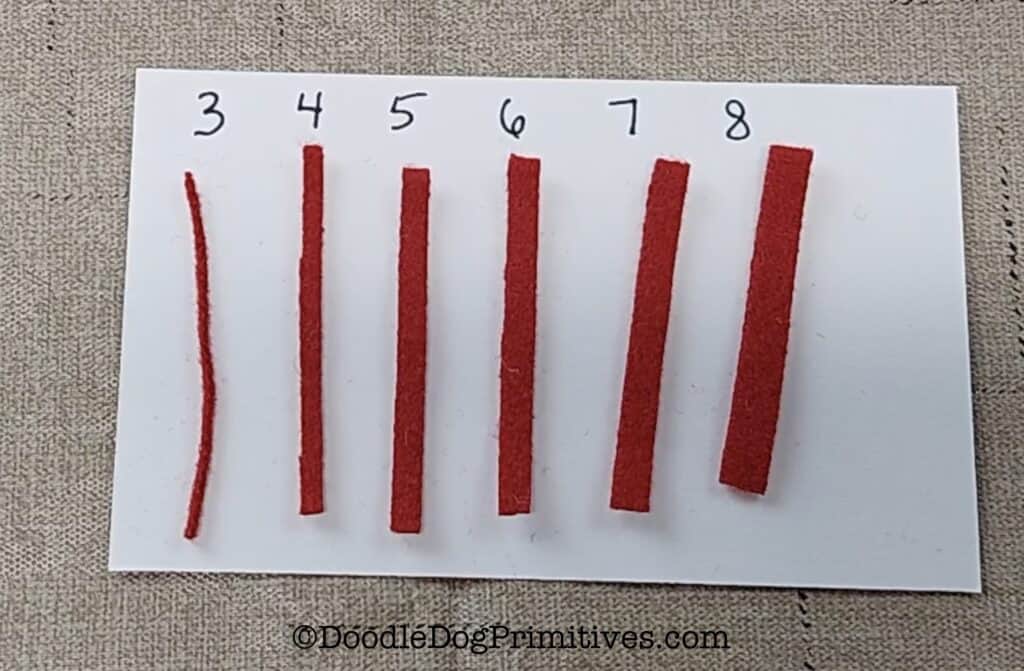 There are also larger cuts in sizes 8.5, 9, 9.5, and 10. Unfortunately, they no longer follow the same formula. With each increase in size, the numerator is now increased by 2.
Cut 8.5 – 10/32″ = 5/16″
Cut 9 – 12/32″ = 3/8″
Cut 9.5 – 14/32″ = 7/16″
Cut 10 – 16/32″ = 1/2″
There is some confusion on the cut sizes that are 8.5 and above because not all of the different brands of wool strip cutters label the cut numbers as the same width. If a pattern calls for a larger than 8 size, just make sure you know what size they mean before cutting your strips!
These larger sizes are normally used for a primitive style rug.
Advantages of Different Size Cuts:
The thinner strips are easier to pull through the backing, making it easier on your hands and wrists. Just make sure your strips aren't too thin for your foundation fabric!
Hooking a rug using wider strips will progress much faster than hooking with thin strips.
The narrow strips are great for adding details to a design.
Don't be afraid to mix different size strips to get the look you want. Just make sure to have all of the loops come up to the same height.
In this free rug hooking pattern, a combination of #4-#8 cuts were used.
How to Cut Wool Strips for Rug Hooking:
If you are just beginning your rug hooking journey, I would recommend cutting your wool strips by hand with a good pair of fabric cutting scissors. Don't worry, they don't have to be perfect cuts! Or use a self healing cutting mat, a cutting ruler, and a rotary blade cutter.
If you are doing a more primitive style of rug, you could also tear the strips. This gives the strips a frayed looking edge, giving your rugs a different look.
Once you become a seasoned rug hooker and know you are going to love it, you can invest in a wool strip cutter that will cut multiple strips at the same time.
Be sure to check out our other rug hooking tutorials.
Be sure to Pin this Rug Hooking Beginner's Tutorial: