When we first purchased our 1986 Avion camper, it had funky gold swirled mirrors above each of the twin beds. With three kids, we needed extra sleeping room in the camper so we added a bunk above one of the beds. When we removed the mirror to add the bunk, it came out in pieces.
Now the kids are grown so we removed the bunk. This left us with a lopsided looking bedroom with only one mirror.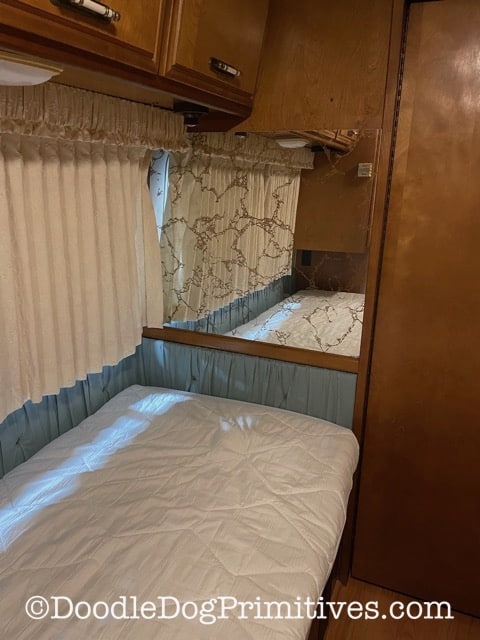 After much debating and searching for a matching replacement mirror, we decided to remove the mirror and add some wallpaper to the walls.
But, I didn't want to add the wallpaper directly to the walls in case we want to change things later.
We decided to paper a thin board and slide it into the space where the mirrors had been.
This post may contain affiliate links for your convenience, which means if you make a purchase after clicking a link I will earn a small commission but it won't cost you a penny more. For more information, please visit our Privacy Policy.
Prepping the Boards:
My dad happened to have a piece of paneling large enough to cut the two pieces. We didn't want to have to worry about the grooves in the paneling, so we turned it over and used the back side of the paneling as the front.
After cutting the pieces to fit the mirror openings, we painted the back of the paneling and the sides with some Kilz primer.
Paper the Boards:
Choosing the wallpaper was perhaps the hardest part of this job. We are trying to keep an original feel to our vintage camper while updating the accent colors and other things as needed.
So I was looking for a neutral colored small print. After much debating, I settled on this paper.
It is a self-adhesive wallpaper but we decided to also use some wallpaper paste since the camper is exposed to such extreme temperatures when in storage.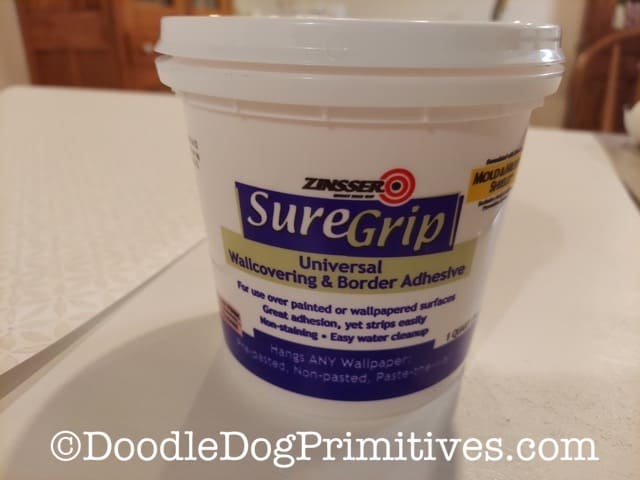 We used the boards as a template for cutting the paper and followed the instructions on the wallpaper paste to paper the boards.
Install the Boards:
We let the boards dry a full 24 hours before installing them in the camper.
There were trim boards both above and below where the original camper mirrors were installed. We unscrewed those, slid the newly papered boards in place and screwed the trim boards back in place.
I think we will probably hang something on these walls now but I haven't decided for sure what to do. Any thoughts?
You might like our other vintage camper tutorials.