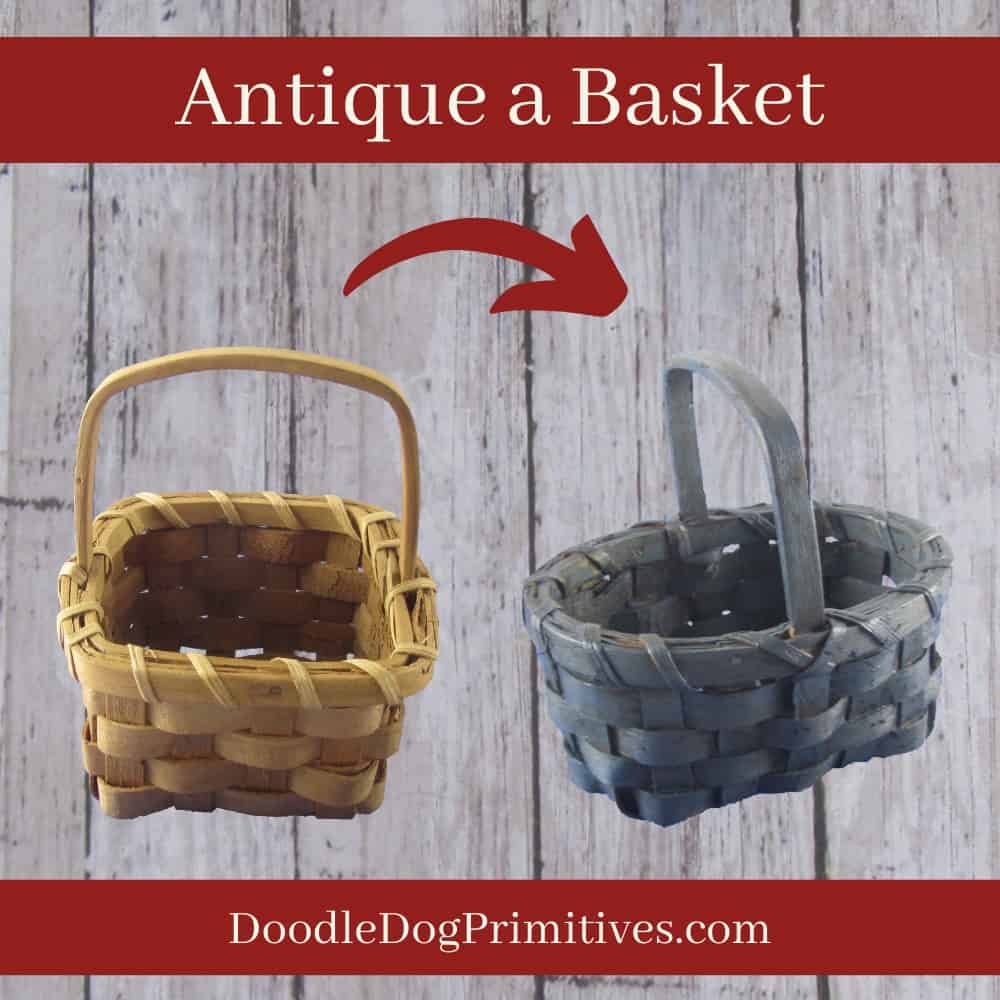 In this tutorial, I will show you a quick and easy way to antique a basket with paint.
This is a great way to add some age to a basket to make it have a more rustic, primitive look.
I chose a small basket for this project – one that is the perfect size to add to a punch needle bunny.
You could just as easily use this same painting technique with a larger basket.
This post may contain affiliate links for your convenience, which means if you make a purchase after clicking a link I will earn a small commission but it won't cost you a penny more. For more information, please visit our Privacy Policy.
Supplies for Aging a Basket:
Woven Basket
Rust-oleum Decorative Glaze – Java Brown
Paint brushes – one stiff
Plastic craft knife
Rags
Craft Paint in black and color of your choice
Watch the Video:
Paint the Basket
The first step is to paint the basket a color of your choice.
This basket was painted with a federal blue color.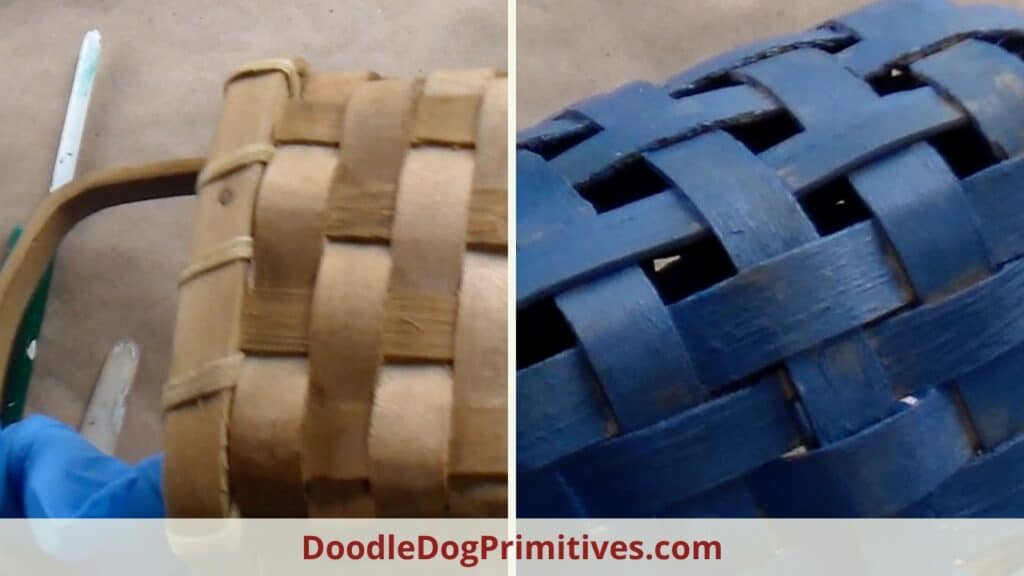 It is ok if the paint is light in some spots – that adds to the aged effect,
but be sure to get paint into the cracks.
Don't forget to paint the inside of the basket too!
Allow the paint to dry.
Apply the Glaze to the Basket:
Use a paintbrush to brush a glaze onto the basket and then use a rag to wipe off the excess.
I used Rust-oleum Decorative Glaze in a Java Brown color.
Do a small section at a time.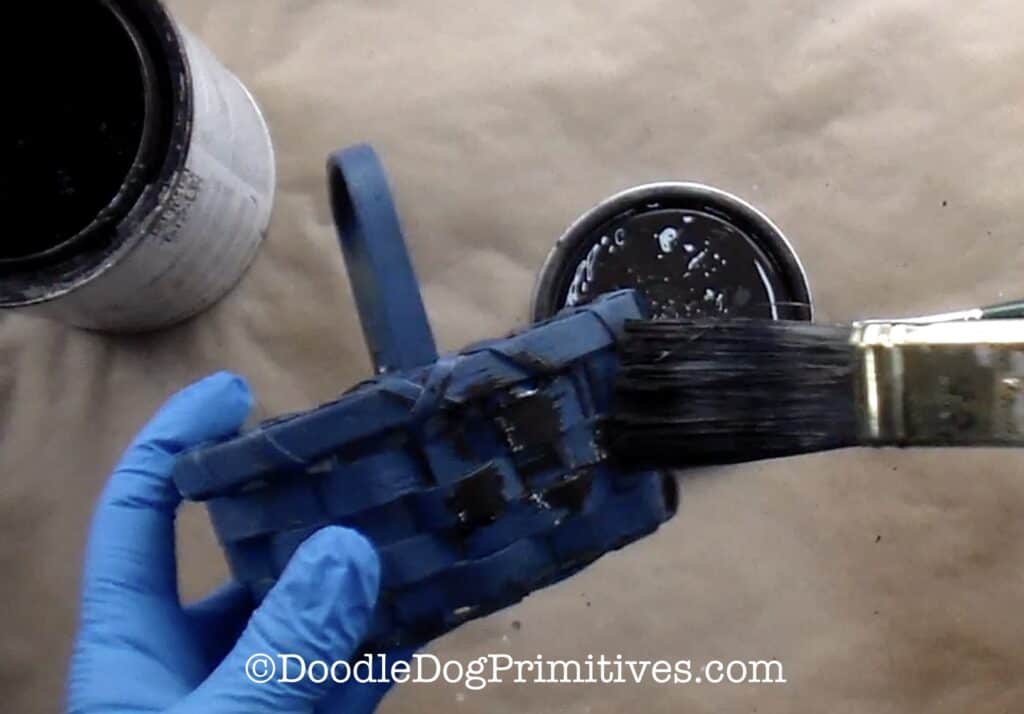 Make sure to get the glaze down into the cracks and don't forget the inside.
The glaze gives the painted basket an antique appearance.
Allow the glaze to thoroughly dry.
Add Flecks of Paint:
If you are happy with the basket, you could stop here.
I like to add the flecks of paint
because it adds an extra layer of "grunginess" to the basket, making it look older.
For the speckles of paint, you will need a stiff paintbrush, craft knife (a plastic kitchen knife would also work), and black craft paint.
The paint can really splatter in this step so make sure to protect your surfaces and clothing!
Dip the paintbrush into the black craft paint.
Flick the paintbrush across the edge of the craft knife to splatter the paint.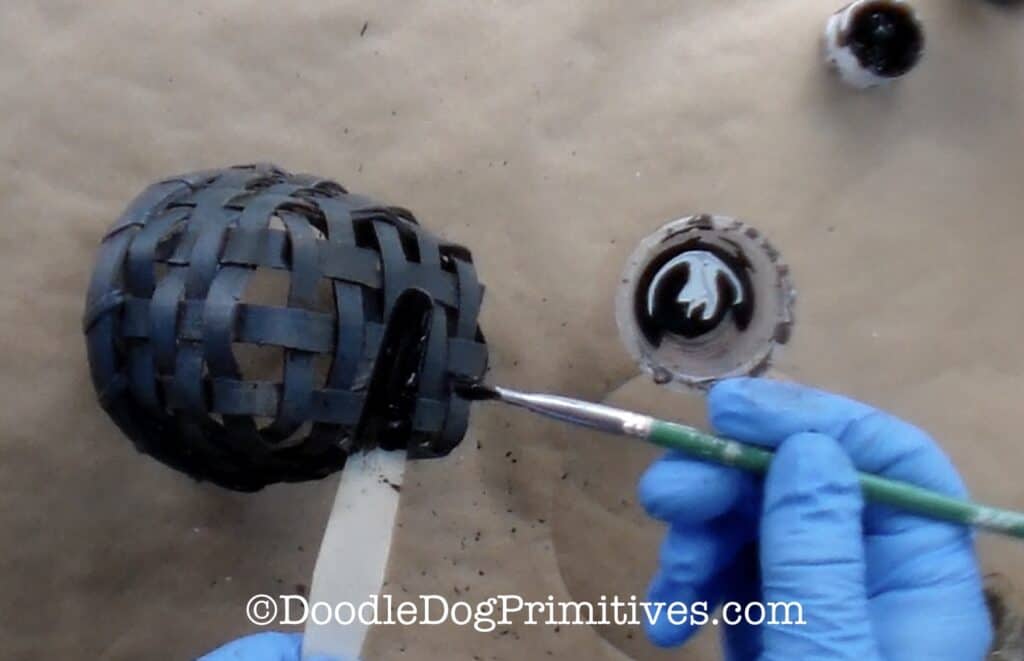 You can practice this a few times above a piece of paper to see where the paint will land.
This creates little specks of color that add authenticity to the aged look of your basket.
Keep turning your basket until you have flecks of paint on the entire basket.
I hope you enjoy your newly antiqued basket!
Be sure to check out our other primitive craft tutorials.
Blessings~
Amy