I have recently had questions about making commercially dyed black wool look more primitive. When thrifting wool garments, black skirts seem to be very common. It is hard not to scoop them up when you find them, but there is only so much solid black you need in your rug hooking and wool applique projects. So I did an experiment to try to remove black dye from wool. Here's my method and results.
Watch the Video:
This post may contain affiliate links for your convenience, which means if you make a purchase after clicking a link I will earn a small commission but it won't cost you a penny more. For more information, please visit our Privacy Policy.
The Dye Removal Method:
I started with a few different black felted wools that were originally from a variety of garments. My goal was to lighten the color using some Rit Color Remover.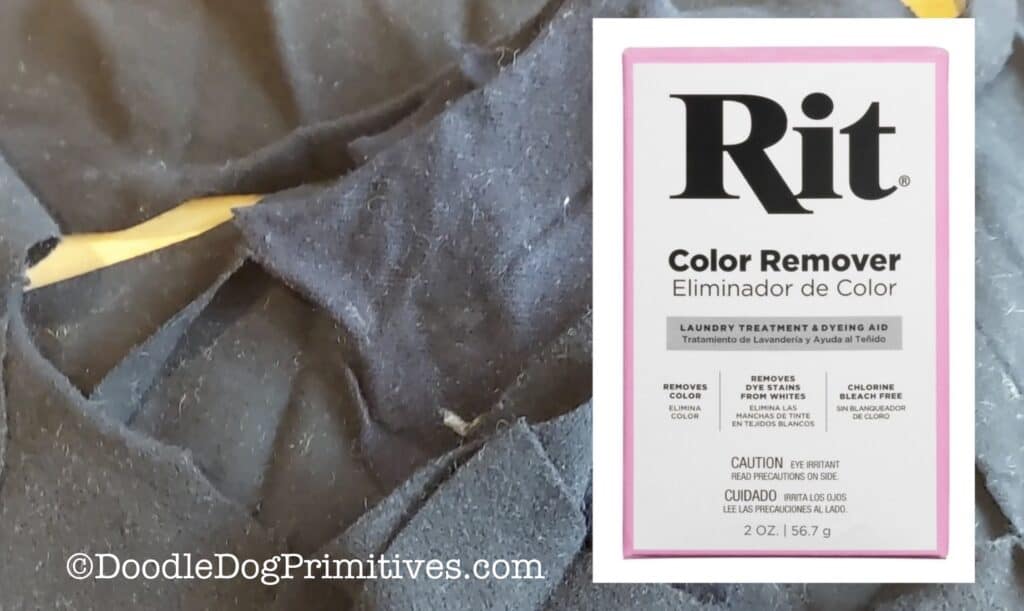 The instructions for the Color Remover are on the inside of the box. It does specify that it is appropriate for using on wool fabrics. I used the stove top method.
I used a stainless steel pot and spoon that I use exclusively for dyeing and followed the preparation instructions on the label.
Caution: This process has a strong odor! Be sure to do this in a well ventilated area.
I saw results almost immediately after submerging my wool in the Color Remover mixture.

The Wool Dye Removal Results:
Within a few minutes, I removed all but one of the wool pieces from the pot. I could tell they already had a lighter, mottled look to them.
The last piece had a maroon color to it. I ended up simmering it 17 minutes and it was still maroon.
I rinsed all of the wool fabrics as the Color Remover label indicated and hung them out to dry.
I ended up with a variety of results. One is grey and khaki, some are blue grey and light tan, and one is maroon. I love the marbled look of them, but I could probably over dye them now since the color is lighter.
My guess is the difference in colors is a result of a difference in the original dyeing process or a difference in fiber content.
Be sure to check out our other rug hooking tutorials.