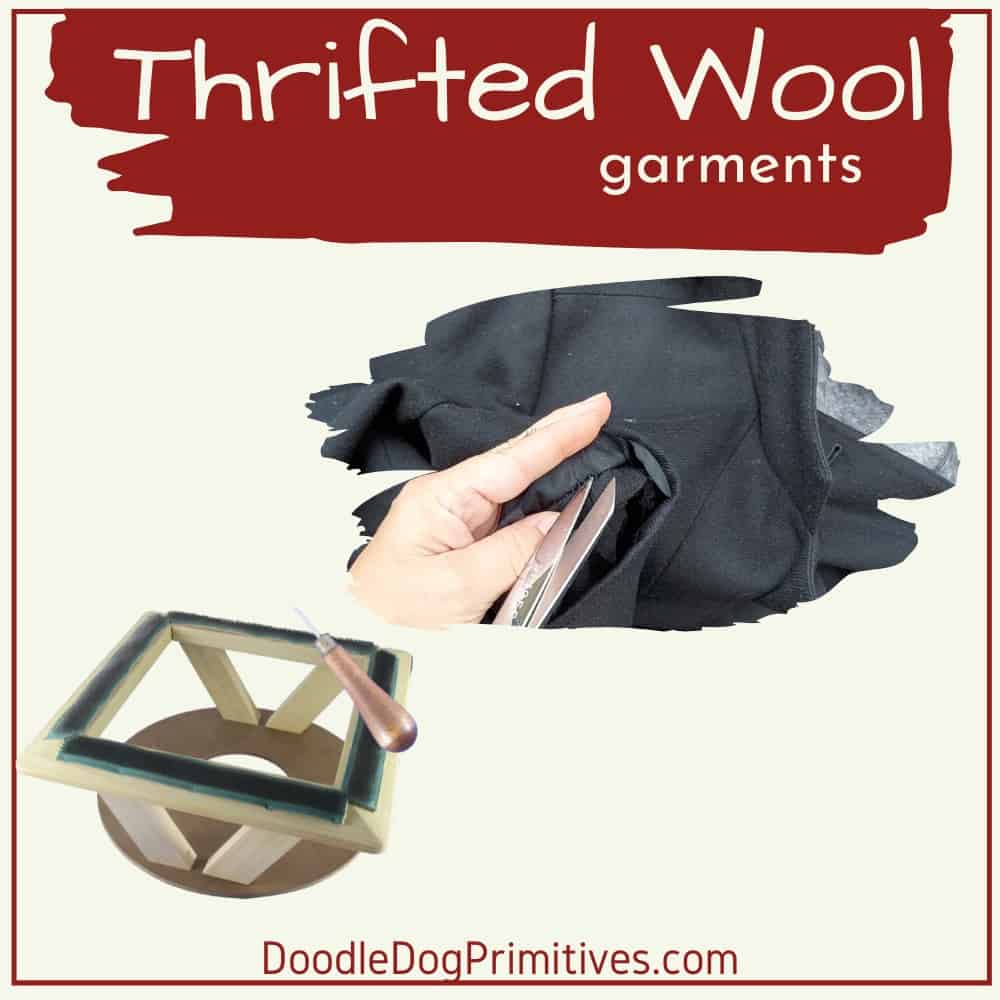 I have been asked about the feasibility of using thrifted wool for rug hooking projects. When I can find it, I do use upcycled wool in my own rug hooking and wool applique projects.
People don't wear nice wool garments like they did in the past so it is not always easy to find wool at the thrift stores. But if you are persistent, you can find old clothes at thrift stores that will work. Another great place to look is estate sales!
In this post, I will tell you what to look for and what to avoid and show you how to disassemble a garment before felting it for your hooking project.
Watch the Video:
Shopping for Thrifted Wool Garments:
When looking for wool clothing at the thrift store, there are a few things to keep in mind.
Most importantly, you want to look for items that are 100% wool with a tight weave. Items with a loose weave won't felt enough to use in your rug hooking projects.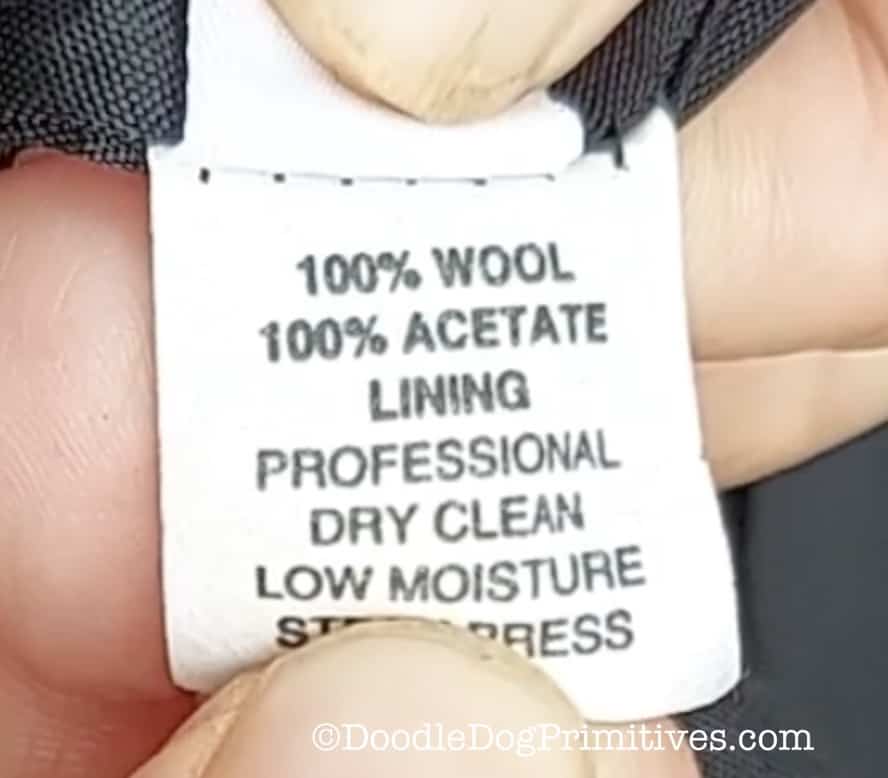 With any type of garment, the larger the size, the better!
Skirts are the most desirable because they have the most amount of usable wool, followed by pants, and finally suit coats.
You can felt 100% wool sweaters to use in other craft projects, but they aren't usually good for rug hooking.
Because there aren't a lot of 100% wool garments to be found these days, it might not be worth a trip to the thrift store just for that. But if you are hunting at thrift stores or estate sales for other treasures, you might as well take a look!
Color of Garments:
When looking for garments at thrift stores, a big consideration is the coloring of the wool. Even if you don't think it is a color you could use, consider whether or not it could be over dyed to become a color you would use.
Light colored wools are especially good for over dying and I love having plaids and other patterns of wool to dye!
I went to the thrift store to see what I could find for this post. Unfortunately, I didn't find any skirts or pants but only a ladies suit coat in black. Since I can always use black wool, I purchased it for $1.

Disassemble Wool Garments:
I prefer to disassemble the garments before felting them. Some garments have interfacing and I have found it to be easier to remove the interfacing before washing.
I do this process outside because it can be quite dusty, especially if there is some age to the garment.
The first step, regardless of the type of garment is to remove and save any buttons. This is a great way to add some interesting variety to your button jar!
You can use a seam ripper or scissors on the garments. I normally use scissors simply because it is faster and the seams will usually rip right out once they are started with the scissors.
Be sure to also remove the threads from the seams while dismantling the garment because that is harder after washing.
Skirts:
Not only do skirts have the most amount of usable wool, they are also the easiest to disassemble.
Cut off the waistband, remove any lining, and then cut the wool apart at the seams.
Pants:
Pants are also usually fairly easy to disassemble. Cut off the waistband and fly area, remove any lining, and then cut the wool apart at the seams.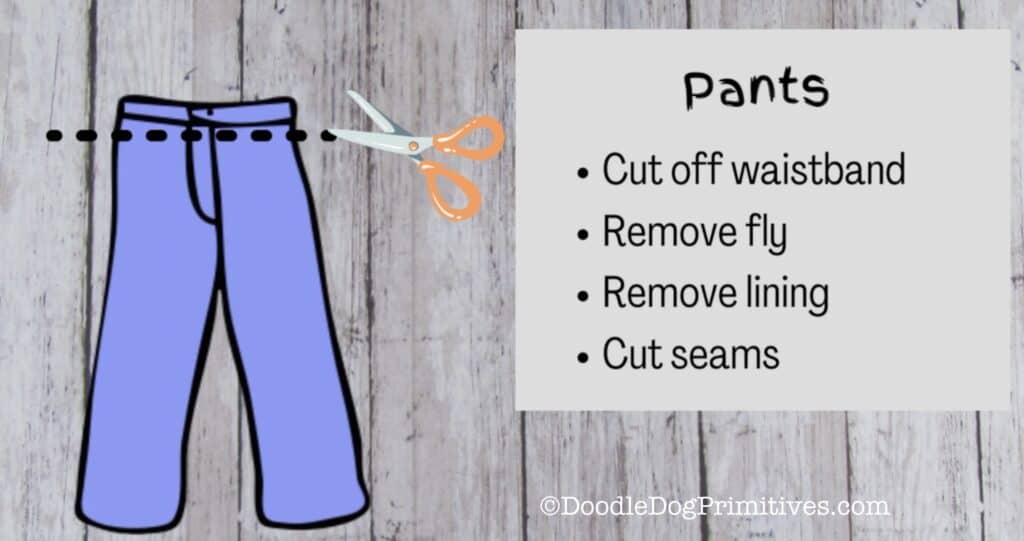 Suit Coats:
Suit coats are the most likely to have interfacing and they have more seams so they take a longer time to deconstruct.
Start by cutting out the lining so you can see what's underneath. This will expose the interfacing if there is any.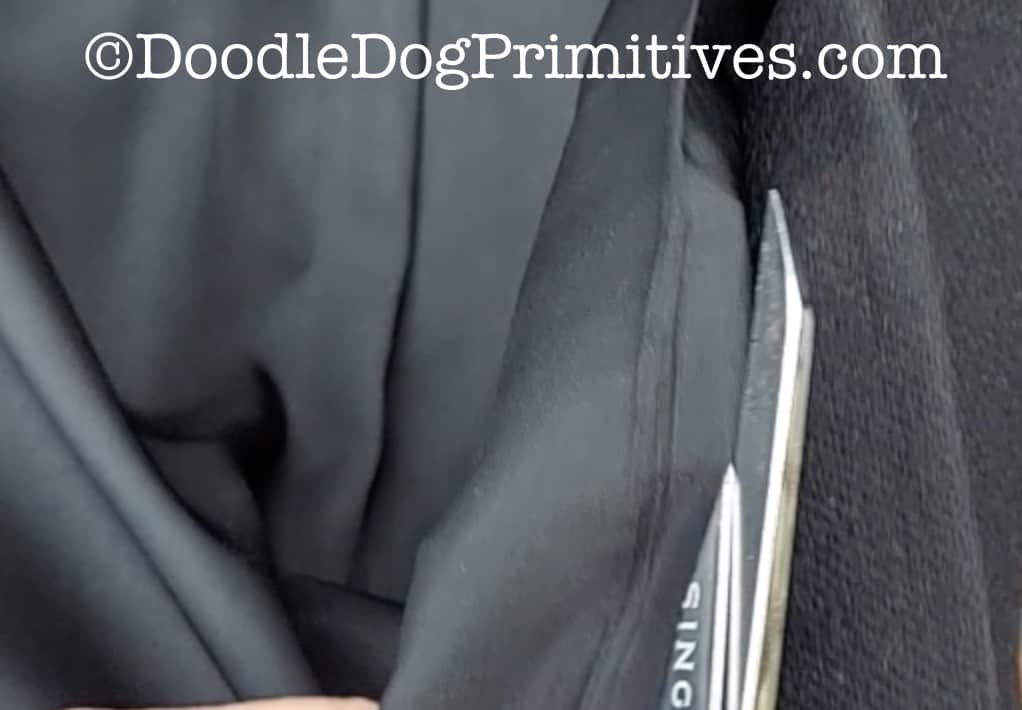 On my garment, there was interfacing on the front panels of the jacket.
Remove any shoulder pads.
Cut off the collar.
Remove the sleeves by cutting the seams. Remove any seams and hems in the sleeves and remove interfacing.
Cut the seams at the shoulders and sides.
From the back, cut off the pockets and then remove the pocket slot.
Cut out the button holes. The front edge usually has top stitching that is hard to remove, so I just cut that part off also.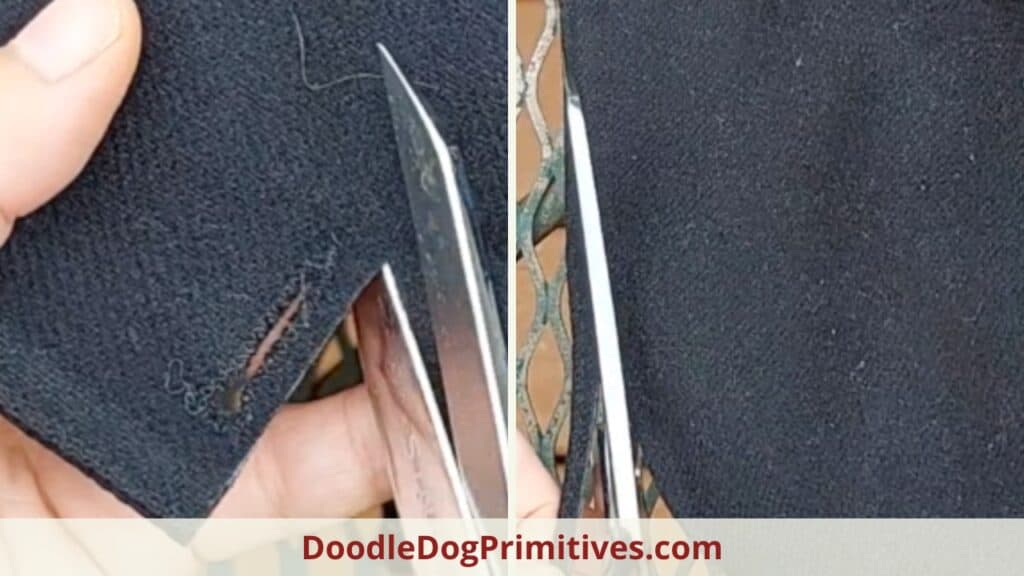 Remove any darts and other seams.
Remove all the interfacing and any remaining lining.
The interfacing can be very difficult to remove – kind of like removing old wallpaper from the walls!
Just get all you can. You can always use any wool with residual interfacing for wool applique or the backings of punch needle projects.
Felting the Wool:
After the garment has been deconstructed, you can wash and dry the wool to felt it and then use it in your rug hooking and wool applique projects.
Have fun and be sure to check out our other rug hooking tutorials.