I purchased this antique primitive style table at an auction a few weeks ago. I love the chippy texture of the paint but unfortunately, someone had sanded the drawer completely smooth. The majority of the table has a lot of texture that was left when some of the vintage paint peeled off and some didn't. I have done projects with crackle paint previously but I haven't ever tried to get a chippy paint texture like this before this project. This tutorial was a complete experiment on my part but I think it turned out pretty good!
Watch the Video:
This post may contain affiliate links for your convenience, which means if you make a purchase after clicking a link I will earn a small commission but it won't cost you a penny more. For more information, please visit our Privacy Policy.
Create a Chippy Look:
To create the paint chips on the smooth drawer, I needed to use something that could be easily sanded AND painted. Water putty seemed like the perfect solution.
I mixed a small amount of the water putty with water to make a thick paste – like toothpaste. Then I dabbed it in various spots on the drawer.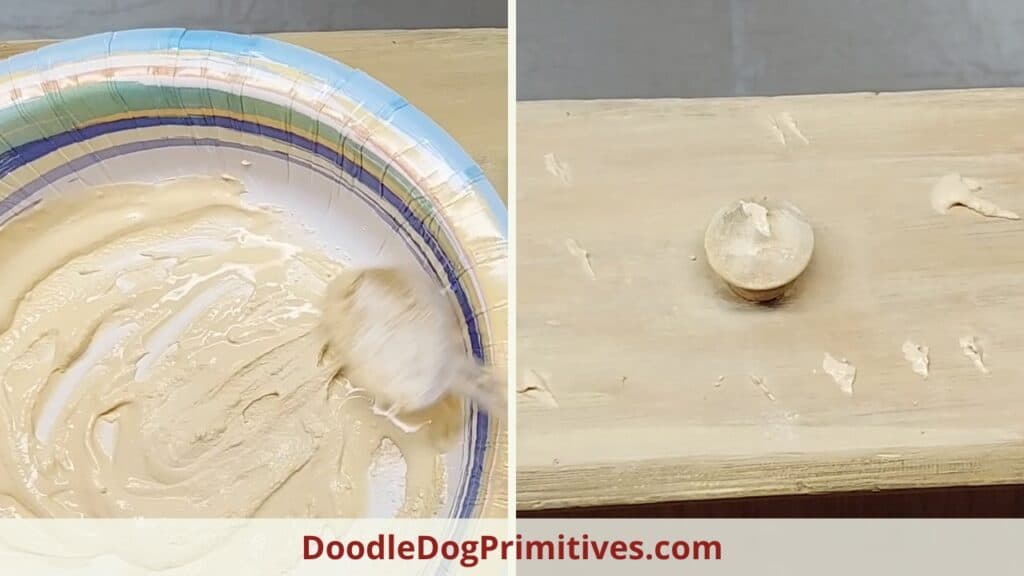 With a putty knife, I spread the water putty mixture out so it was flat but still raised above the surface of the wood. Using the tip of the putty knife I added some lines through the water putty so it looked more like the cracks in the vintage chippy paint.
After the water putty was completely dry, I sanded it lightly with a 120 grit sanding block to remove any ridges and rough edges.
Paint the Chippy Finish:
At this point you could just paint the project. I decided I wanted to also try to add a little bit of a crackle appearance to the paint so I added a base coat of white, some crackle medium, and then a top coat.
It took me lots of tries to get the drawer paint color to be similar to the vintage paint.
I also sanded a little after painting and I added a decorative dark wax. If you want to see the whole process, you can watch my chippy paint tutorial video.
The drawer turned out a little darker than the rest of the table, but I really like the finished chippy paint texture!
Check out my other primitive tutorials.