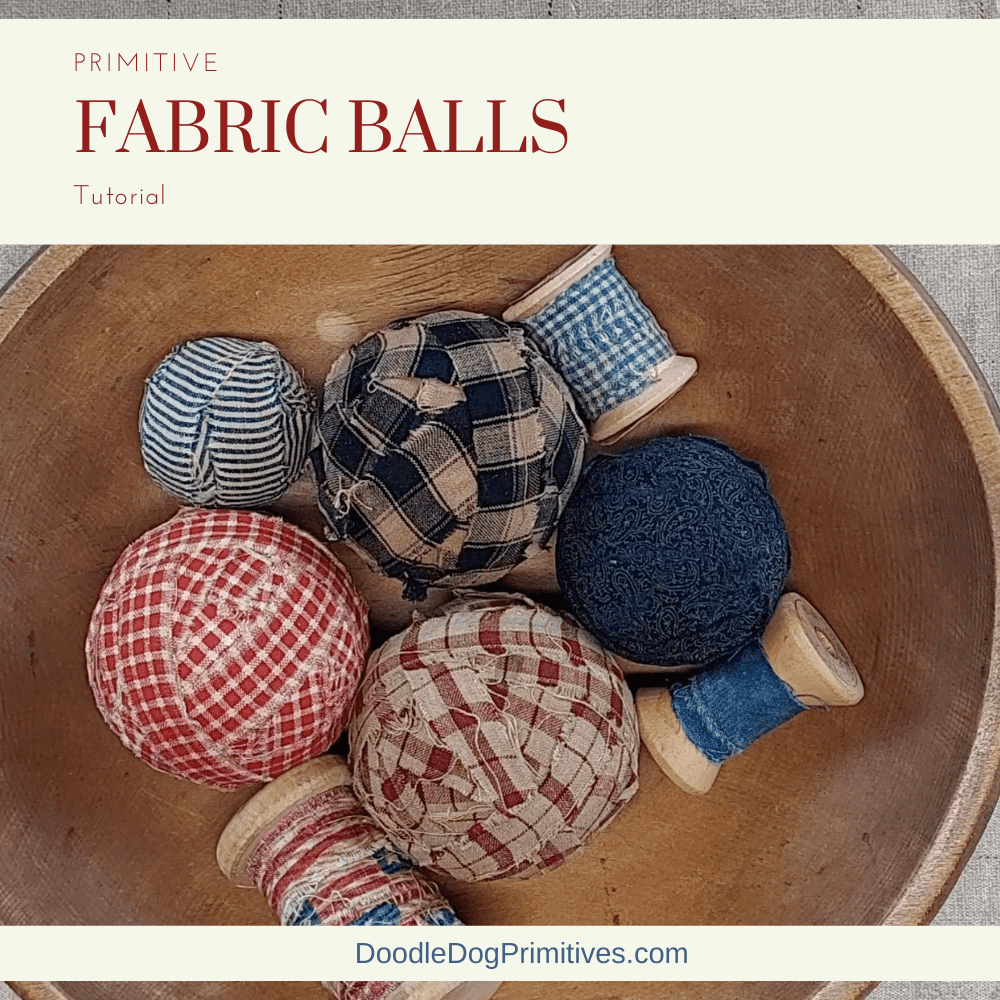 In this craft tutorial, I will show you how I made some primitive fabric balls from some of my scrap fabric. I also covered a few wooden spools with strips of scrap fabric to add to my wooden bowl with the fabric balls.
Watch the Video:
This post may contain affiliate links for your convenience, which means if you make a purchase after clicking a link I will earn a small commission but it won't cost you a penny more. For more information, please visit our Privacy Policy.
Gathering Supplies:
To make the fabric balls, you will need scrap fabric, (I chose some coordinating reds and blues.) styrofoam balls, and glue. I used Aleene's craft glue, but you could certainly use a glue gun if you prefer. If you want to grunge the balls a little, you will need some instant coffee, cinnamon, vanilla, and a paintbrush.
I made my fabric balls to display in an antique wooden bowl so I placed some styrofoam balls in the wooden bowl to decide how many I needed to make.
I have a collection of styrofoam balls from previous projects so I used three different sizes. I figured this would help the fabric balls look more authentic.
Making the Fabric Balls:
Tear strips of fabric. Use thinner strips for smaller balls and wider strips for larger balls. I used 1/2″ to 1″ strips. It is definitely not an exact science. Just snip the fabric at the edge and tear the strips. Cut strips won't give the nice raveled appearance that is perfect for primitive fabric balls.
Longer strips are easier to work with and will work up faster, but short strips also work. I used lots of short strips because I was working with fabric in my scrap basket.
After you have the strips of fabric prepared, apply a spot of glue to one of the styrofoam balls. Place the end of a strips of fabric in the glue and start wrapping the fabric around the ball.
This is similar to winding a ball of yarn from a skein of yarn. As you wrap, keep going around at a different angle. Add a dab of glue to the end of the strip of fabric to glue it to the ball.
Repeat with more strips until the styrofoam ball is completely covered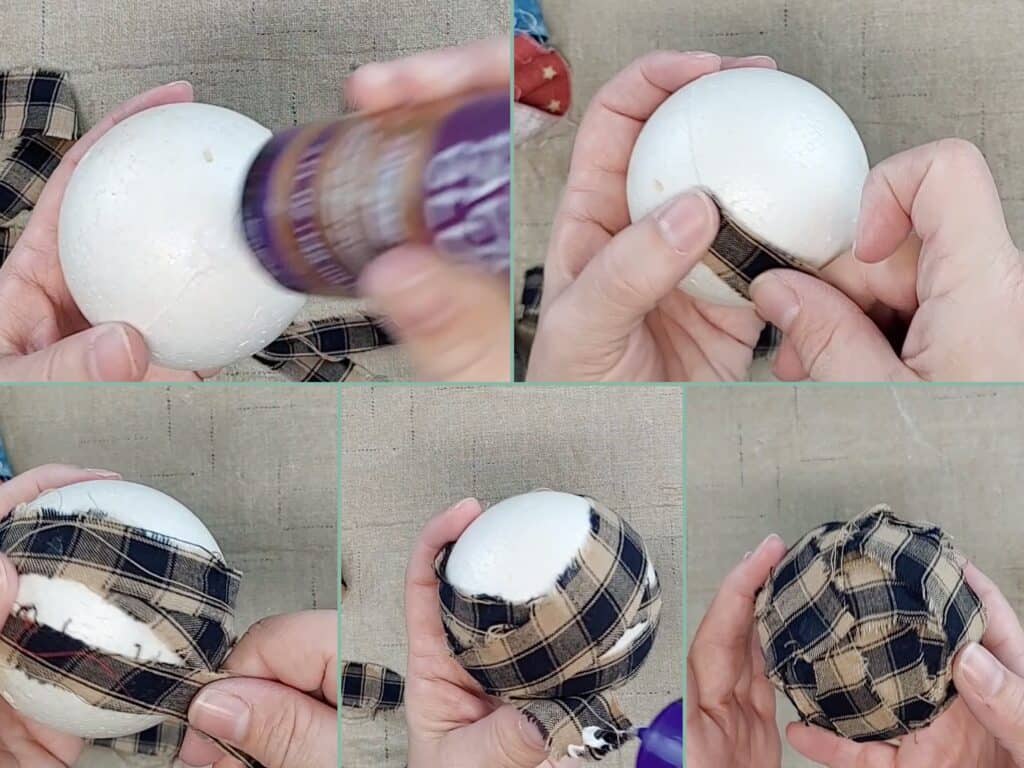 Grunge the Fabric Balls:
If the fabric balls are too new looking for your decor, you can add a little bit of grunge to them.
Just mix some hot water, instant coffee, cinnamon, and vanilla. The more you add to the water, the grungier your mix will be. Stir it thoroughly and paint it onto the fabric with a paintbrush.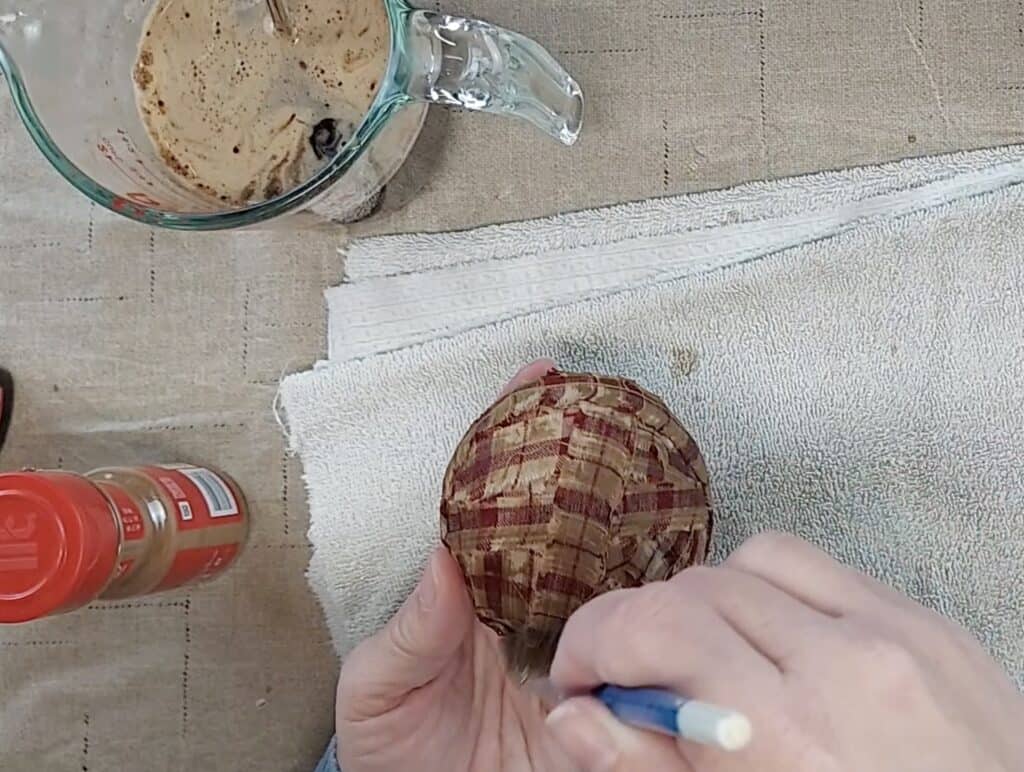 Let the grunge mixture dry completely.
The photo below shows mine before (left) and after (right) grunging them. It makes quite a bit of a difference with the lighter fabrics but not much with the darker fabrics.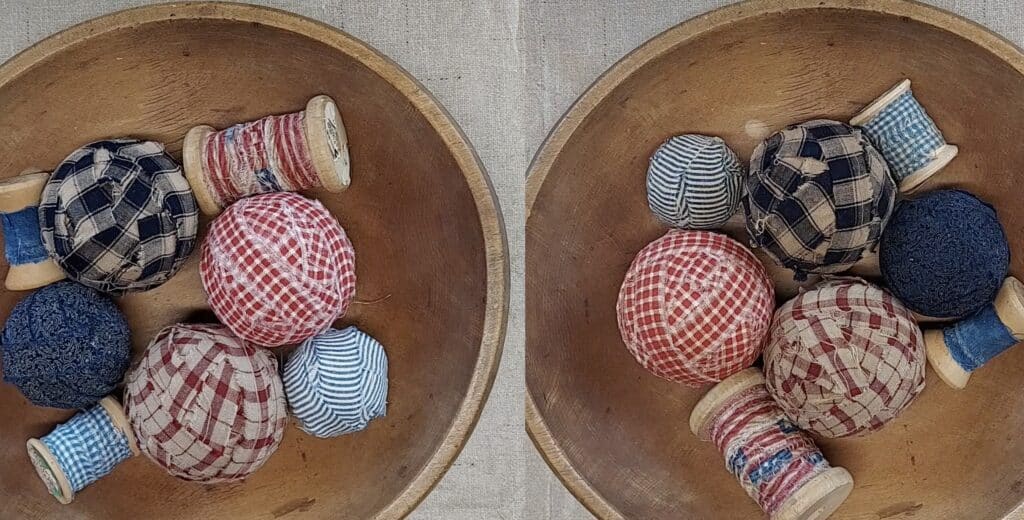 Be sure to check out our other primitive craft tutorials.