I am excited to be releasing a new Hooked Rug Vintage Truck Pattern today.
Classic Truck Hooked Pillow:
This retro truck was hooked with #8 strips (1/4″ wide).
I hooked the vintage truck in an aqua wool,
but it would look great in a traditional red
or whatever color works with your decorating!
My mom hooked hers in greens.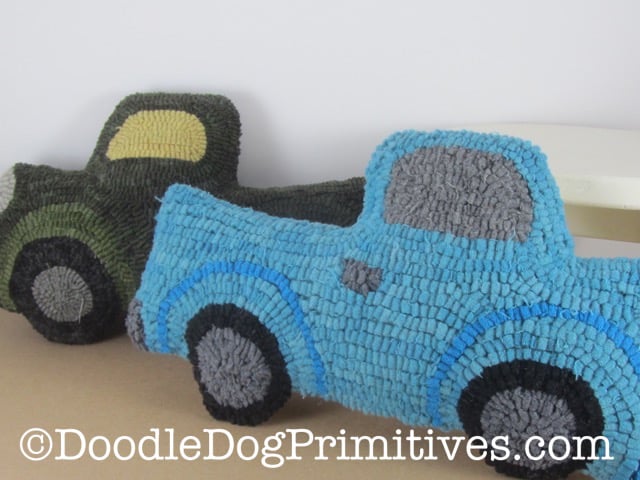 It is just the right size to "pull" the hooked rug retro camper pillow.
Just be sure you have them both going the direction you want!
I plan on putting both my truck and camper pillows
in our vintage camper on the twin beds.
The finished truck measures about eight inches by fourteen inches.
(I also have a retro truck punch needle ornament pattern.)
Get the Hooked Rug Pattern:
The vintage truck rug hooking pattern is a full-size pattern –
no need to resize.
The pattern includes finishing instructions to make the truck into a pillow.
I have found it is best to use monks cloth
when creating hooked rug pillows
as the fabric is softer and easier to manipulate.
I used a cream felted wool for the vintage truck's backing
and stuffed it lightly.
The Vintage Truck Pattern comes in a digital, instant downloadable pattern
and a mailed pattern.
Blessings~
Amy