You are going to love our new owl and pumpkin hooked rug pillows!. This new rug hooking pattern is a companion to our It's a Hoot punch needle pattern. The owl pillow is very similar in appearance to the punch needle owl bowl filler but the pumpkin has a different look with a white pumpkin and blue moon.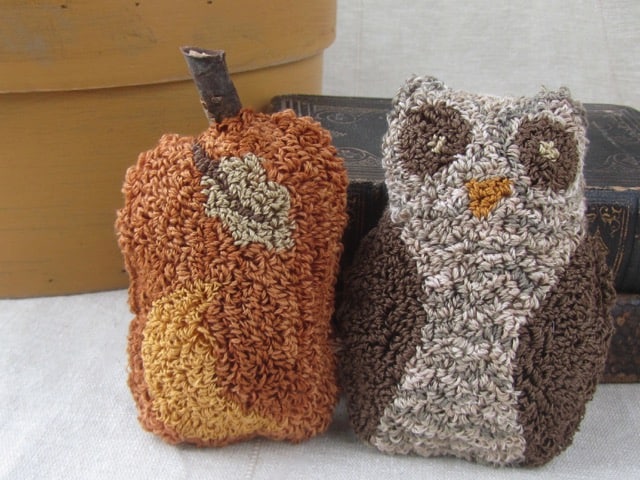 It's a Hoot Hooked Rug Pillows:
Both of these hooked rug pillows were completed using #8 wool strips. They measure about eight inches wide and about eleven inches tall.
The owl was hooked using a variety of brown and tan textured wools with scraps of gold for his eyes and beak.
The white pumpkin pillow was hooked with a variety of cream colored textured wools and blue wools for the moon.
Get the Fall Hooked Rug Pillow Pattern:
You can get started hooking right away and purchase an instant downloadable pdf digital hooked rug pattern.
The digital pattern is full sized – no need to enlarge anything. Just print the pages and tape them together before transferring it to the foundation fabric.
You can also choose a mailed paper pattern or a red dot pattern.
Regardless of which format you choose, you will receive the pattern, a color photo, color suggestions, and finishing instructions for completing the pillows.