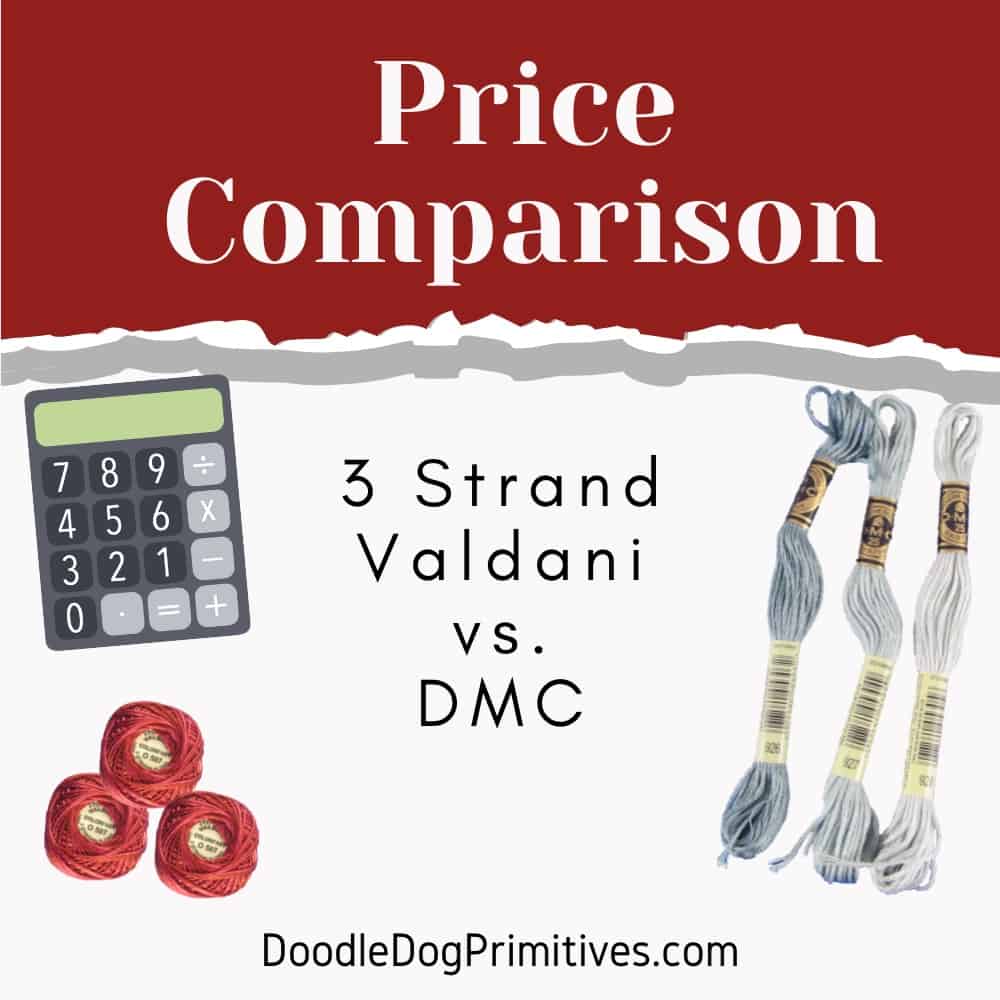 I prefer doing punch needle with 3 strands of floss. I usually use a combination of both DMC and Valdani floss. I am also a budget conscious gal, so I thought I would compare the price of 3 strand DMC embroidery floss and the 3 strand Valdani balls to see which is the most cost effective floss.
I will calculate the price per yard of 3 strands of DMC floss and the 3 strand Valdani balls.
This calculation is done by taking the price and dividing by the number of yards of 3 strands of floss.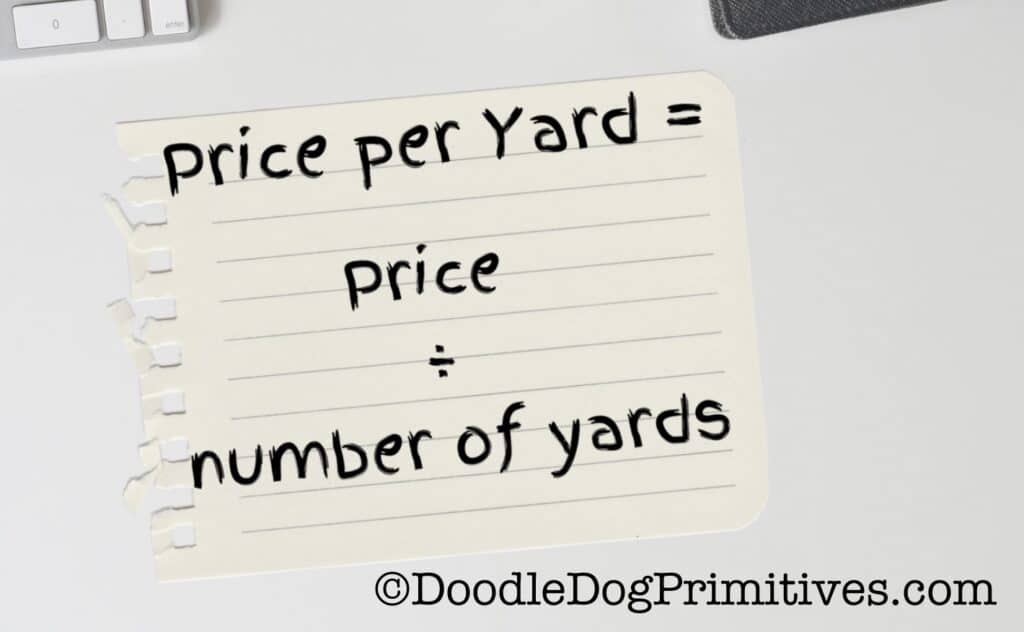 Watch the Video:
This post may contain affiliate links for your convenience, which means if you make a purchase after clicking a link I will earn a small commission but it won't cost you a penny more. For more information, please visit our Privacy Policy.
Calculate DMC cost per yard:
I looked online to see the current retail price of DMC embroidery floss. At today's prices, I found it for 56¢ at Hobby Lobby, 60¢ at JoAnn Fabrics, and 62¢ at Michaels.
I will use the median price of 60¢ to determine price per yard.
Each skein of DMC embroidery floss has a length of 8.7 yards.
Since each skein of DMC has six strands, we can separate it into halves, giving us 17.4 yards (8.7 x 2).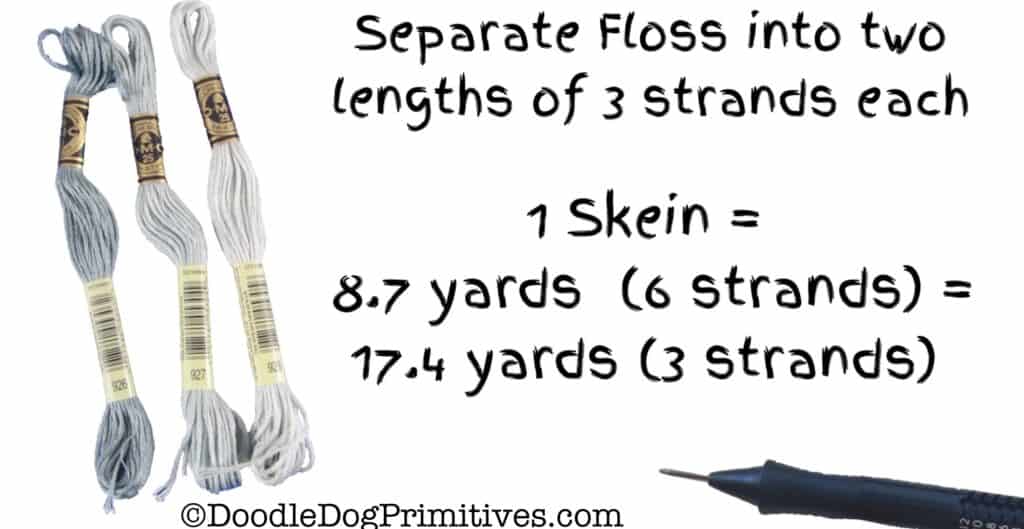 If we divide the cost of the floss by the number of yards, we will get the price per yard.
That works out to a price per yard of 3 strands of DMC floss of about 3.4¢.

Calculate Valdani cost per yard:
I normally purchase my Valdani floss from Snowflake Memories. They have a nice selection and process orders fast.
The price there is currently $3.60 for a 29-yard ball of 3 strand floss.
This works out to about 12.4¢ per yard of floss.

DMC Floss Cones:
I just found out that DMC also sells cones of 6 strand embroidery floss in some of their more popular colors. It is sold by weight and has approximately 450 yards of floss on a 100 g cone. That is almost 52 skeins of 6 strand embroidery floss!
Since this floss is 6 strands, you could separate it into two groups of 3 strands to get 900 yards of floss. That's a lot of floss for punching!
At the current price, buying the cones of floss works out to be 2.8¢ per yard of 3 strand of floss.
Conclusion:
If you punch A LOT with a certain color, buying it by the cone is a slightly cheaper method, but there is a large initial cost. Whether you want a whole cone or just a skein of floss, DMC is a more cost-effective choice.
But, sometimes it isn't just about the cost! Ease of use matters.
You don't have to thread the needle as often when using balls of Valdani 3 strand. But, you can separate an entire skein of DMC embroidery floss at one time so you can punch the whole 8.7 yards without re-threading.
Ultimately the most important aspect to me is the look of the finished project.
I love the look of the variegated Valdani floss – especially for backgrounds and other items where I want some variation in color.
But, sometimes I want a solid color. I use DMC floss for those areas in a punch needle project.
Using a combination of the two allows me to add dimension to projects while keeping the cost of my punch needle kits down for you.
I have also done some hand "aging" of floss, punching with multiple colors together, and punching with two shades of color to create an interesting look in punch needle projects.
Other Price Comparisons:
Cost Comparison of DMC embroidery floss vs DMC Pearl Cotton #8
Cost Comparison of Valdani Pearl cotton to 3 Strand
Blessings~
Amy
Be sure to pin this cost comparison for later!